Endings are tricky. They're the final note in a wonderful song, the last glorious bite of a pizza you ate all by yourself instead of doing social things. Nothing tarnishes the legacy of your book/movie/TV series/sexual encounter more than tripping at the finish line, putting a big stinking asterisk next to this creative project you worked so hard on. Yes, Space Cowboy Zombie Strippers: Revolutions* is a masterpiece of science fiction!
*As long as you skip season 8.
Fortunately, we live in the world of the stealth edit and the fan cut, where audiences everywhere can flagrantly disregard copyright law in favor of making a better version of a thing they love. Yes, that's right. At any given time there are thousands of people who can decide to make a good thing better for free. You might recognize this concept as "utopia".
Because sometimes the people who create our favorite series are the least qualified to finish them. For instance, JK Rowling's paean to the magic of standardized testing, Harry Potter and the Series of Terrible Teacher Decisions, which gives us six books of pure magic and
**SPOILER ALERT**
one book of schmaltzy fan fiction.
Harry Potter commits the greatest sin any series finale can commit: it ends exactly the way it's supposed to. If JK Rowling had written Casablanca, Rick would have used a Time Turner to bring Ilsa back off the plane. If she'd written Serenity then Wash would've popped up in the last five minutes with a bandage on his chest making some joke about heartburn. If she'd written The Sixth Sense then it would have turned out that Bruce Willis had been happily married the whole time.
Because Rowling only understands two ways to end a character arc. Either they get married, or they die (or in Lupin and Tonks's case, both).
Which is why it's so bizarre that she decided NOT to kill Harry. Think about it. Harry's entire life has been defined by the absence of his parents. His wealth, his fame, even the years spent with the Dursleys, all of it came from decisions his parents made. Their love kept him alive when Voldemort came to kill him, their connections with the Order of the Phoenix gave Harry the means to fight back. Harry's parents are some of the most important characters in the series and they almost never appear.
It would have been a far more satisfying conclusion to the story to have Harry reunite with them at last.
Yes, I'm calling it. Harry should have dueled with ol' Voldy and lost, instead of growing up, getting a lousy haircut, and having weirdly-named babies with The Girl Weasley. That's not an ending, it's a Hallmark card. Sometimes I still try to convince myself that ending is just an excerpt from Ginny's diary that Rowling accidentally stapled into Deathly Hallows.
To fix this ending, we're going to have to do some surgery on the last half of the last book. We can keep the bits with Potterwatch and the Ministry of Magic getting overthrown in a weekend, and Snape's story arc, by far the greatest dramatic accomplishment in the series, should go untouched. We'll have to subtract that confrontation in the woods where Harry lets himself be killed. Let's pick up on the Battle of Hogwarts, where Voldemort's army approaches the school wanting Harry's head on a plate.
Everyone's terrified. Voldermort is breaking through their defenses like a Sherman tank through cardboard. There are children in the castle. This is not looking good. Voldemort claims the killing will stop if only they'll bring him Harry. The school assembles in the courtyard, looking on in horror as Voldemort displays a pile of murdered fan favorites.
Harry watches from the windows of Hogwarts for as long as he can stand it. When he sees Neville getting tortured he realizes enough is enough. He prepares to march out into the courtyard and let Voldemort end it all there, when something magical happens. One by one, the students raise their wands, summoning a parody of the Death Mark in the sky. Rather than the grimacing skull and snake of the Death Mark, it is Dumbledore's benign, smiling face, with Fawkes perched on his shoulder. First it is only Harry's close friends: Ron and Hermione, Dean, Seamus, the Weasley twins, the Quidditch teams. Then come the teachers, with Flitwick, McGonagall, and Hagrid all joining in. Gradually each House raises their wands in defiance until finally, to everyone's shock, House Slytherin follows suit, led in this action by a steely-eyed Draco Malfoy. Malfoy's parents are horrified and beg their son to join them on Voldemort's side. Draco says nothing, simply aims his wand up at Dumbledore's smiling, silly face.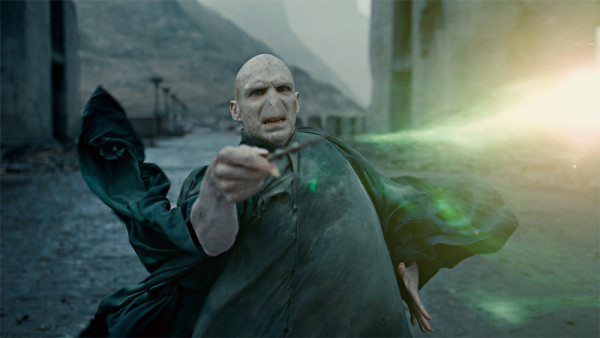 An enraged Voldemort raises his wand, ready to blow Neville to pieces for this impertinence. And THAT's when Harry swoops in on a broomstick, handily disarming Voldermort at the last possible second. The students cheer and the battle begins anew.
I think we can maintain a few of the better moments from this battle, but the character deaths need a reshuffle. I'm sorry, but Fred Weasley should not have died. That was pointless and sadistic. It should have been Percy, who finally redeems himself for being an uptight fascist for most of the series by sacrificing himself to save his family. If another Weasley needs to die it should be one of the parents. I'm going to say the father because I simply cannot get rid of Molly's "Not my daughter, you bitch!" line. Yes, this is still going to be tragic. I just think some of these deaths need to feel more earned, and having everyone reminisce in the years to come about their eccentric old dad and his obsession with Muggle toys is far more bittersweet than leaving George Weasley with a dead other half, one ear, and a lifetime of PTSD.
I'm also okay with Lupin's death; having him go out in a blaze of glory would put an awesome final act for Messrs. Moony, Wormtail, Padfoot, and Prongs, though I can't figure out why Tonks had to go too. She should still be alive at series end, having become an activist for the rights of werewolves and metamorphmagi the world over. Their son, Teddy, could be some cool new type of metamorph-werewolf hybrid, giving wizards valuable new insight into the nature of both conditions. Teddy struggles sometimes with being a famous freak of nature with a dead father and a mom who's often traveling, but he's helped through the rougher times by uncle Ron and aunt Hermione, who learned plenty about the struggles of fame and being different from their dearly departed friend Harry Potter, the Boy Who Lived and Died.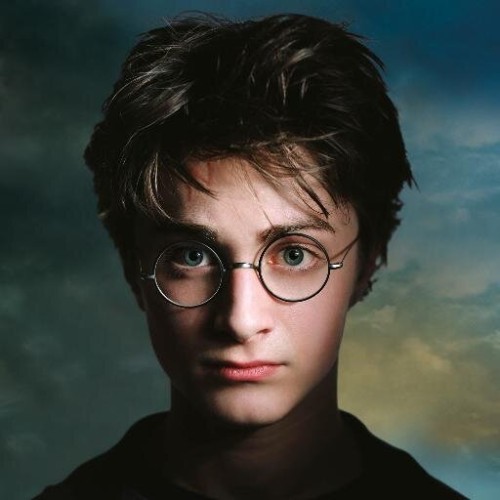 Yes, Harry needs to bite it at the end. He and Voldy tear hell across the Hogwarts grounds, creating a duel the likes of which hasn't been seen in the world since Dumbledore battled Grindelwald. After some time, Harry and Voldemort find themselves locked in a Priori Incantatem, with the ghosts of Voldemort's victims surrounding them both. Harry's parents appear, and the various teachers and students students Voldemort killed in the previous battle, and even Dumbledore pops in, who was killed by the wand Snape used which Voldemort now possesses. Solemnly, Dumbledore reminds Harry of the prophecy, that neither can live while the other survives.
Harry then realizes how his story ends. Surrounded by the ghosts of his friends and family, Harry releases his incantation and allows Voldemort's spell to strike him in the chest.
It is THEN that Harry appears in the train station of the afterlife, speaking to Dumbledore about life and whatnot. He sees Voldemort's shriveled, wrinkled soul nearby and it is explained that Voldemort can never truly die, but will exist in a state of non-death for all time as he did at the series beginning, reduced to lurking in shadows and closets, a nightmare for small children that fades upon waking. Voldemort can never be destroyed because evil can never be destroyed, but he won't be able to go on the journey that Harry will now take. Harry sees his smiling parents waiting for him in the train. Harry nearly runs to them but first he whispers into Dumbledore's ear, asking for an unusual favor. Dumbledore is no stranger to bending the rules for a worthy cause. He smiles. Harry heads back to the world of living for one final goodbye.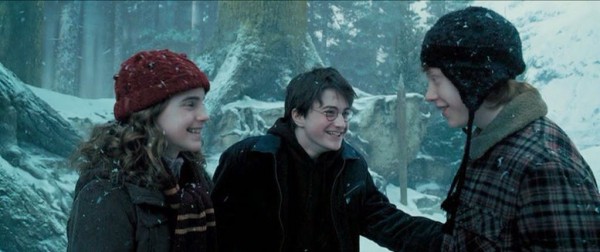 The contents of this final meeting between Harry, Ron and Hermione are best left unsaid. Ron and Hermione, bruised, scraped and very much in love, are walking past the Hogwarts lake when Harry appears to them. Hermione begins to question the situation but Ron asks her just to accept it. We fade out on the three wizards having one last stroll through the grounds, talking about Quidditch and house elves and chocolate frogs.
You want an epilogue? Fine. Draco's parents are imprisoned and he becomes estranged from them, eventually finding work as Hogwarts's first successful Defense the Dark Arts teacher in decades. He becomes head of Slytherin House and reforms it, creating a house that's just as ambitious and cunning but a little less racist and evil. He's a stern and grim teacher much like Snape, but he's not without his warm moments. Ron and Hermione encourage their children not to be scared of the spooky old Mr. Malfoy when they seem him on Platform 9 3/4 since they knew him back when he was a preening little snot on the Quidditch team. Malfoy hears this and turns towards them, offering Ron the briefest of winks before he escorts their children onto the train.
Hermione becomes a hugely successful witch while Ron spends most of his time as a stay at home dad, following the Quidditch teams and tinkering with Muggle artifacts. Sometimes when he's home alone with the kids at school, listening to the radio or disassembling a toaster oven, he swears he can feel his old friend Harry sitting right next to him, ready to chat about this and that, offering him a chocolate-flavored jelly bean.
Sometimes he eats it and it's vomit flavored. Some things never change.