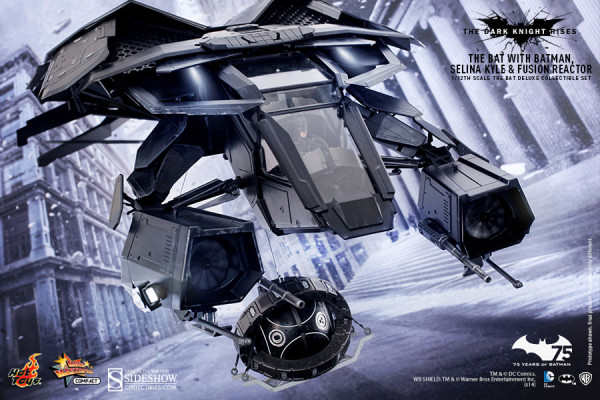 Hong Kong toy company Hot Toys has built their reputation on creating uncanny likenesses of characters as 1/6 scale action figures. This time they're slicing that size in half for a new Batman release. Their next vehicle is The Bat, that weird armored flying thing Batman used in The Dark Knight Rises. It's scheduled to hit Western shores in October 2015 through an exclusive distribution deal with Sideshow Collectibles, and it will be coming in two flavors.
One is the standard Bat vehicle, clocking in at 10.5″ high, 16.5″ wide, and 29.5″ long. It will come with a Batman figure and a remote to control the Bat's LED lights and propellers. That one is the standard edition, priced at $689.99, but you can add some cash on top of that if you want to go deluxe and get the version that includes not only the Bat and Batman, but also a Catwoman figure and a replica of the fusion reactor from the movie. That one will set you back $779.99.
You can preorder both the deluxe edition and the standard one right now.