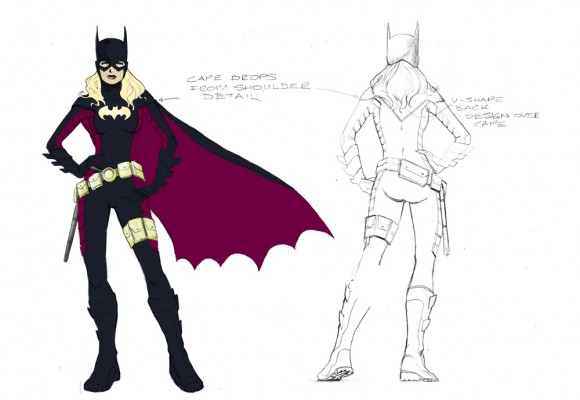 Alright, so if anyone knows anything about me, its that I am 1) way into comics and 2) way into fashion. So I was understandably excited to learn that Stephanie Brown, AKA Spoiler, AKA Robin, AKA DC's Sexism Kitchen Sink Recipient, AKA the new Batgirl, would be retiring Cassandra Cain's black leather fetish rags in favor of her own new cowl.
Batgirl is an internationally recognized character, a brand, a symbol, a story that means you can take on Batman's emblems and stand up for justice no matter who you are, even if you're JUST A GIRL. Yvonne Craig's Barbara Gordon Batgirl is the most recognizable version, but slap a Bat-symbol on a girl in a cool costume and you've got yourself a new Batgirl. The simplicity of that formula and the near-universal love for the character sparked the Draw Batgirl meme that swept the blogs a few years back. Cool costume + Bat-symbol = New Batgirl.
Which brings us to Stephanie Brown's new Bat-uniform. I am less than amazed. Where's the "cool costume" part? The math is simple, show your work. Does this look like Batgirl, the globally recognizable character? Does it look like Stephanie Brown, the fan-favorite female heroine? No, it looks like a generic Legion of Superheroes uniform with a cowl and a Bat-symbol.
And a utility garter.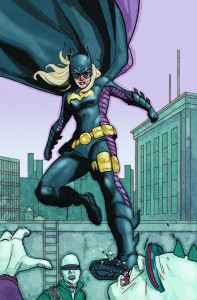 Is Cable running an accessories store now? (Shoulder pad arsenals half off this weekend only.) You know what else really works in women's fashion? Horizontal stripes. Ask anyone. Those ribbed sections may work on Ultimate Giant Man's costume, but unless Steph's gone meta, I'm not seeing the logic. And the hip-tilted utility belt? That doesn't look hot. It looks like Batgirl is trying to wear Batman's gear instead of her own. Or she recently lost some weight. Planning some topical female-aimed storylines à la Marvel Divas, DC?
Color-wise, I get trying to include purple in the costume as a nod to Stephanie's Spoiler days, but why the side-striping? Yvonne Craig's shimmering purple Batgirl was gorgeous AND kicked ass. Here we've got purple and black (perhaps not the best color combo), and a complementary yellow that unfortunately also clashes with Steph's blonde hair. Leave her hair in the cowl, please. This mask cutout concept worked well with Barbara's red hair in the cartoon.
The costume doesn't flow with any of the former Batgirl costumes. At least with the Robins, all of the costumes have a structure to them that makes them unique and maintains the branding. What works for those costumes is that they all look like The Boy Wonder, but they're all personalized to the character under the domino mask. This new Batgirl barely has a connection to the past uniforms, and instead looks like something that came from the reject pile at Project: Rooftop.
DC, I want to like your female superhero comics more than anything. If you have a target audience for these, I am the bright red center dot. Aim better.