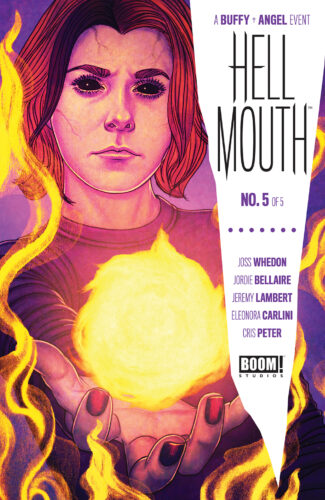 The short series has come to an end, but it opens up the door for many more storylines to come. Regrets abound and the world has changed as a result of this particular battle, but the future seems to hold some interesting potential as well.
Note: This recap may contain spoilers!
We pick up where we left off, with Possessed!Angel facing off against Buffy. The Hellmother is certainly taking him for a ride, but Buffy's sick and tired of it all. She's fed up with the mindgames, done with the actions of the Hellmother in her push to go topside, and Buffy's even sick of Angel in all this. And she takes out her frustration on the Hellmother, even if they are evenly matched. Drusilla soon joins in, knocking Possessed!Angel in the head, but the Hellmother's still got a lot of life left in her. And she's determined to win this battle, letting no one stand in her way. The Hellmother tosses Drusilla into the lake, taunting her that it's only right that the body that sired her would be the one to end her.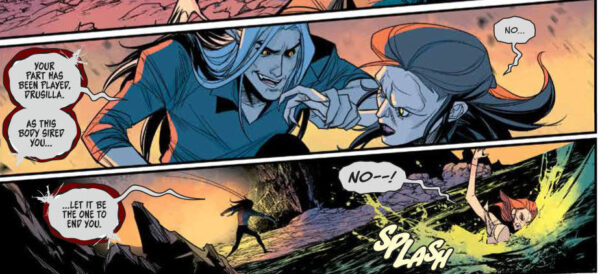 This seems to be the end of Drusilla, at least for now, and Possessed!Angel begins to call upon every slain thing to join him so they can ascend together. The creatures start coming out in droves and it quickly looks like Buffy will be outmatched. But, like a miracle from Sunnydale, the whole gang comes riding in atop Camazotz, ready to fight. And while Buffy is happy to see her fellow residents, much has changed since she's been gone. Willow's gained more magical powers and is seemingly calling the shots. Added to that, there are now two Slayers in play. Buffy really needs a run-down once all of this is over and they hopefully come out the victor.
What ensues is a glorious battle amid chaos. Possessed!Angel stabs Camazotz in the arm, but the creature manages to throw him off. Then Willow manages to pull the Hellmother from Angel, separating the two so they can focus on the Hellmother alone. And Buffy sets out to do just that, as the Slayer attacks her, wanting to take the Hellmother down herself. She actually achieves her goal in the end, getting the Hellmother into the lake before Camazotz pulls Buffy out. That mission is done, thankfully, and now it's time for answers. Angel wakes up and is apologetic, though we're not sure if Buffy will be forgiving or if Angel will actually stick around Sunnydale for long. And then Buffy realizes that Xander's not there, which sets into motion the long ending of regrets.

Back home, Buffy and Willow regroup in the library with Giles. The librarian is apologetic that he didn't realize what was happening sooner. When he starts crying, Buffy consoles him while Willow leaves to go mourn on her own. Buffy finds her soon after, going through Xander's locker. Willow has decided that she can't stay in Sunnydale. She's been accepted to a study abroad program for a few months and is going to take it. So, both Xander and Willow are lost to us, at least for now.
Meanwhile, Giles is looking for answers of his own. He goes to see Anya, seeking foresight. He wants to know if what happened to them might happen again, and of course it's a possibility considering there are countless dimensions with their own Hellmouths. Anya also lays some wisdom on him, saying that the past is where he will find the answer to what lies ahead. The Slayer before Buffy will find Giles and that will be the key, but Giles was sure that she had passed on. Anya puts doubts in his head about that, so we may well see Buffy's predecessor after all.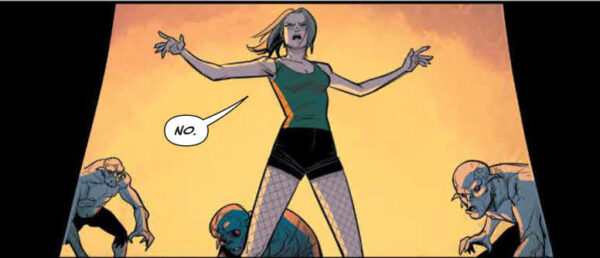 We get a semi-confusing ending, but one filled with intriguing potential. It looks like we're getting a glimpse at an alternate dimension where Buffy's working at a bar and her childhood friend is her only customer. They get attacked by a monster on the walk home and are saved by what looks like Slayer!Willow. What is to become of all of this? I'm looking forward to finding out!
Rating: 4 / 5 Stars