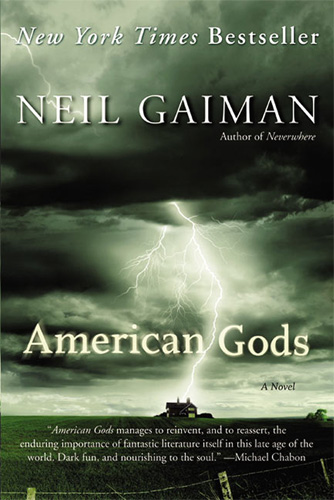 Update:
Neil Gaiman himself has corrected the information reported here. It looks like the source of the American Gods greenlight was incorrect, as the show has not gotten a final approval at this point. You can see Gaiman's brief comment here.
Neil Gaiman's American Gods is one of those books that will cause certain people to look at you askance if they learn you haven't read it. Get ready for those folks to make an easy transition into an "I've read Game of Thrones"-style clan as HBO begins production on a new TV series based on the novel. HBO green-lit an adaptation of American Gods this week, meaning that production can go ahead on the long-rumored series. Tom Hanks' Playtone Pictures will be producing the show, and they currently are aiming to have it cover a six season arc, quite a surprising goal for a book that is, give or take, 550 pages long.
American Gods is about a man named Shadow who is released from prison and suddenly finds himself adrift in a world that moved on without him while he was locked away. He soon becomes embroiled in the plots and machinations of ancient deities and supernatural beings, building to an inevitable conflict that will shake the foundations of reality. The book builds a rich fantasy cosmos and pantheon, and presumably the TV series will build new stories within that world, rather than stretch the events of the book to cover all six seasons.