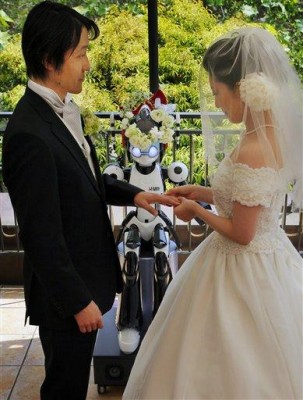 Hey fans! Sorry for the late post; apparently, flying halfway across the world takes a toll on one's stamina! But even so, I'll be bringing you all the best in what's happening in the world of anime, manga, and basically anything and everything Japanese!
Last week, a wedding ceremony between two people working in the robotics industry in Japan happily tied the knot in Hibiya Park in central Tokyo, with a different type of preacher leading the proceedings. The master of ceremonies at this particular wedding was a receptionist-type robot called the I-Fairy, who was decorated with several flower wreaths atop its plastic pigtails and flashing eyes.
The robot wasn't actually fully automatic, however, as there was still an operator working from afar, connected to the robot by several feet of wire hidden from the view of the press and the guests in the ceremony. Regardless, the ceremony went without a hitch, and, after the ceremony, the couple had a few words to say about the role of robotics in daily life:
"This was a lot of fun. I think that Japanese have a strong sense that robots are our friends. Those in the robot industry mostly understand this, but people mainly want robots near them that serve some purpose," said bride Satoko Inoue, 36, who works at manufacturer Kokoro.

"It would be nice if the robot was a bit more clever, but she is very good at expressing herself," said new husband Tomohiro Shibata, 42, a professor of robotics at the Nara Institute of Science and Technology in central Japan.
I find it unsurprising that the first couple to be married this way would come from one of the most technologically aware nations in the world; according the AP news article related to this story, "Japan has one of the most advanced robotics industries in the world, with the government actively supporting the field for future growth. Industrial models in factories are now standard, but recently Japanese companies are making a push to inject robots into everyday life." I believe that there is sufficient evidence to that effect, as robots are already a staple in Japanese pop culture, and it's interesting to note that such leaps and bounds in technology have started to blur the line between fiction and reality.
In other words, I for one welcome our future robot overlords!
(Via AP News)