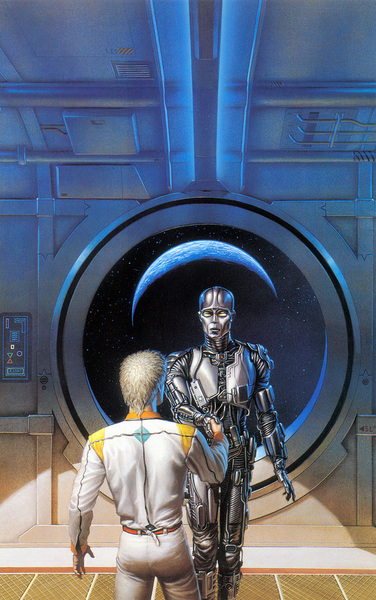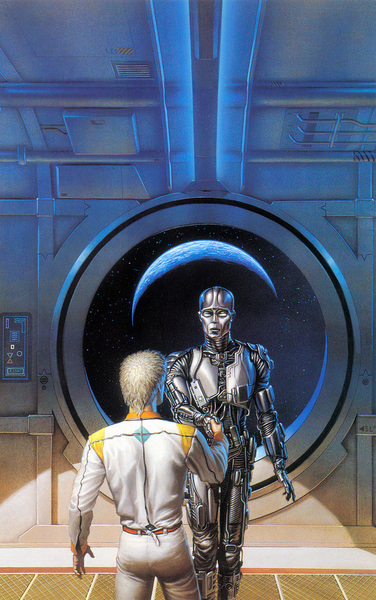 The Fourth Robot Novel
Robots and Empire is very different from Asimov's other Robot Novels. For one thing, Elijah Baley, the hero of the other three books, is absent — he has been dead for 160 years when the events of the book take place. He is very much present in spirit, however, in the memories of robots R. Daneel Olivaw and Giskard Reventlov and of Gladia, his one-time Spacer lover. Elijah's memory is also revered on Baleyworld, the settler planet colonized by his son, where Elijah lived out his last years.
This time around, instead of a mystery requiring Lije's acute observational and deductive skills, the plot of the novel revolves around the political struggle over colonization of the galaxy. In the two hundred years that have passed since the previous book, the Spacer worlds finally allowed Earthmen to leave their overcrowded "caves of steel" and establish settlements on other planets, but now the Settlers outnumber the Spacers who never did establish their own worlds as was the intention. Disquiet is building among Spacers because their societies are dying out while Settler worlds full of short-lived Earthmen are thriving. The arguments and prejudices of each side have not changed since The Caves of Steel, but the two groups are nearing an impasse and the destruction of Earth is a distinct possibility if the forces of peace and cooperation fail to prevent an all-out war.
As we think about how to solve seemingly insurmountable differences between political entities, Asimov treats us to an unusual series of conversations between the two robots, Daneel and Giskard. Daneel, the humaniform robot, finds that as the years go by he thinks more and more like a human. He also has thought more and more about the Three Laws of Robotics that dictate all of his actions, and he suspects that another law must exist that overrides the other laws, even the all-important First Law against harm to individual human beings. The "Zeroth Law" states that a robot may not harm humanity, or through inaction allow humanity to come to harm. This idea, according to Daneel, stems from his memory of Elijah Baley's dying words, which also seem to encapsulate the theme of the entire novel:
"My death, Daneel… is not important. No individual death among human beings is important. Someone who dies leaves his work behind and that does not entirely die. It never entirely dies as long as humanity exists…. The work of each individual contributes to a totality and so becomes an undying part of the totality. That totality of human lives — past and present and to come — forms a tapestry that has been in existence now for many tens of thousands of years and has been growing more elaborate and, on the whole, more beautiful in all that time. Even the Spacers are an offshoot of the tapestry and they, too, add to the elaborateness and beauty of the pattern. An individual life is one thread in the tapestry and what is one thread compared to the whole?"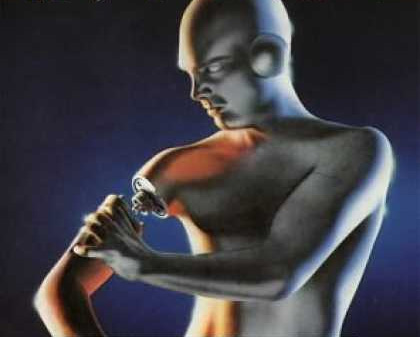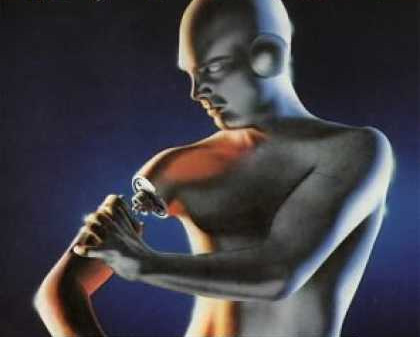 Asimov's goal for humanity seems to be cooperation and understanding of others, even those with vastly different mindsets and viewpoints — after all, as mentioned in a previous novel (and blog post), we are all products of our societies' fears. When we understand each others' fears we can also see and recognize our own prejudices and fears, and then we can take steps to see that we are not cutting threads or groups of threads out of the magnificent tapestry that is humanity.
Final Thoughts on the Series
When Asimov first started writing stories about robots, one of his main aims was to portray them as beneficial pieces of technology, not something to be feared — not weapons of mass destruction, as they were in so many of the other science fiction stories of the early and mid-20th century. This view seems to evolve, though — by the end of Robots and Empire the robots are seen as the corrupting factor that allowed the Spacers to become lazy and soft, lacking the ambition and drive needed to succeed as settlers. They are too comfortable in the status quo, even as it becomes more and more apparent that they are comfortably settling in to watch their societies die out. In contrast, it is a positive thing that the Settlers have established colonies without any robot assistance and do not allow robots on their worlds at all.
In the Robot Novels, I see a depiction of various societies, all of which I would label as dystopian in one aspect or another even though some are seemingly idyllic. By telling his stories about them, I think Asimov is pointing out what could happen, and inviting us to think about what we should do today to make sure that these future societies do not come to be. They are stories of extremes, meant, I think, to help us find a happy medium by identifying the best and worst traits of each society and striving to imitate the good and avoid the bad. The fact that we can still find parallels with our current society, even after fifty years, says a lot for the universality and importance of the topics that Asimov addresses through his fiction. I hope that fifty, a hundred, or even a thousand years from now, humans are still reading Asimov, recognizing the truths in his stories, and taking them to heart — with or without robots.