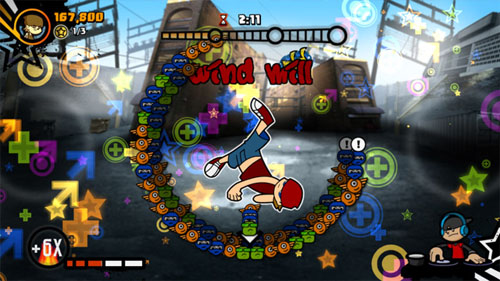 Yesterday I paid a trip to the local Circuit City to take advantage of this week's discounted XBox Live 1600 Points Cards, down to $14.99 from $19.99. I buy a ton of Rock Band songs and the occasional map packs or XBLA games, so I figured I'd be wise to go ahead and buy up a bunch of points while they're discounted. Even with 7500 points now sitting in my account, I find I'm frugal to the point of miserly with my Microsoft Monopoly money. It's a rare thing for me to come across a XBox Live Arcade game these days that I'm actually willing to drop the change for (the Penny Arcade game didn't even make the cut), but I just came across an upcoming release that actually looks like it could be points worthy.
The game is called Go! Go! Break Steady and is a break dancing rhythm game that has you rapid-fire button mashing in time with the music to have your dancer pull off crazy moves and stay with the song. There will be a single player mode, as well as multiplayer co-op and competitive play. The game will ship with 6 playable characters and 20 songs to play through. I think the thing that really grabbed my attention is the art style, though. It's a 2D cartoony style that works very well with the crazy dance moves and gameplay they have going on. The gameplay itself looks like it could be a lot of fun, if you're into the pattern-button-mashing puzzle games.
No info on pricing just yet or when the game will be available for download, but the developers have released a trailer that tops most other XBLA trailers I've seen, and they also have a making-of video that gives a fun and cartoony look at how the game came together.
Go! Go! Break Steady Trailer
The Creation of a XBLA Game
Check out the game's official website here: Link