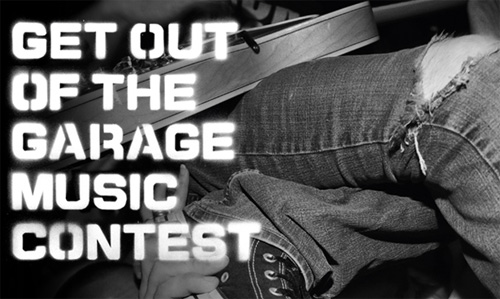 The second annual Get Out of the Garage Music Contest, sponsored by Journeys, Converse, and Guitar Center, launched on Oct. 1st, 2009. Designed to target untapped talent in the artist community, the contest's Grand Prize winners, Twank Star and Southern Backtones, were chosen out of more than 5,000 entries to receive an all-expenses-paid trip to play the Get Out of the Garage showcase at the Levi's/FADER Fort in Austin, TX on March 18th, 2010!
In addition to showcasing this year's Get Out of the Garage Music Contest winners, the Levi's/FADER concert will also feature last year's winner, Flying Machines, as well as special performances by The Pains of Being Pure at Heart, Mayer Hawthorne & The County, and a DJ set by Passion Pit.
If you're planning on being in Austin on March 18th, check out the information for the concert and click on the link below to RSVP for the 21+ event. The show is first-come, first-serve (with RSVP) and limited by venue capacity.
Get Out of the Garage Showcase
March 18th, 9pm at the Levi's/FADER Fort
1101 E. 5th Street, between San Marcos & Waller
RSVP here!
For more information on the Get Out of the Garage Music Contest, visit the contest's official web site where you can find a list of past winners as well as information on each of the bands, including bios and photos. This contest is sponsored by Journeys, Guitar Center and Converse, and we'd like to give special thanks to our friends at Cornerstone Promotion for clueing us in to this awesome event!