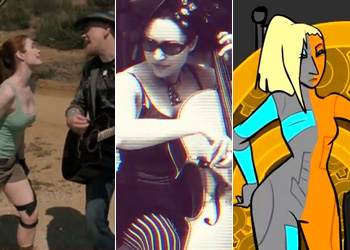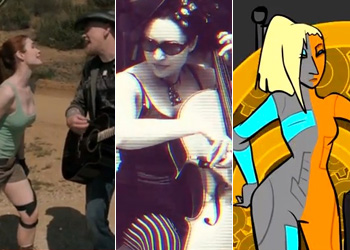 Wow, there have been an awful lot of videos building up in my queue lately. I didn't even realize how many there were until I started to type this up. I'm saving a couple of them for an upcoming mini-review column, but prepare for some really great music, and even some non-musical-but-related content.
Sulfur & Mikal kHill – "1945"
Sulfur uses the atomic bomb drops of 1945 as a metaphor for the rhymes and beats Sulfur and kHill drop on this track. I really dig Sulfur's vocals on this track, and of course kHill's beats are perfect for the mellow vibe.
The Doubleclicks – "The Mystery's Gone"
Some people just don't live up to their online personas. The Doubleclicks sing about one of them in this entry for SongFu. Bonus: this song was inspired by Amanda Palmer's prompt!
Superpowerless – "The IT Crowd" (feat. Sparkles* + MC Wreckshin + B-TYPE + Happi)
It's a rap about The IT Crowd using the theme song from the show. If that's not enough for you, then you probably won't get it anyway. Try not to drop the Internet as you go to the next song…
Dr. Noise – "Sub Reality (Acoustic)"
This is Dr. Noise's "VideoSong" version of a song from his 2009 album, Silent Echoes. It's an interesting take on the song about not knowing what's real and what's not, especially given the rules of VideoSongs. The original is also worth checking out.
The Dedicated Servers – "Rise"
The time has, indeed, come for The Dedicated Servers to rise. I, for one, can't wait for their new album, Dedication, due out later this year.
Felicia Day and Jason Charles Miller – "Gamer Girl, Country Boy"
I love the way Day is playing Rock Band while Miller is playing with a real (country) rock band. It's a fun video all around, and features a special surprise cameo from another well known geek (which is, weirdly enough, how I found out about it).
Sci-Fried – "Looking Back at Today"
Sci-Fried wonders why we don't yet have flying cars and all the other stuff the movies promised us. It's animated by BetsyDraws, the same woman who's done several Kirby Krackle videos, so of course you know it has to be good.
Unwoman – "The City"
Unwoman walks around the city, surveying the damage she has done as well as the hearts she has broken. I wonder what the "normal" people in the background thought about the video shoot. They probably didn't give it much thought since it was shot in San Francisco.
Nuclear Bubble Wrap – "Sharktopus"
The Sharktopus will get you no matter where you run. Watch the background during this fun song for all kinds of references to geeky stuff.
Marian Call – "The Better Half of Every Town (How a Community Defines Itself)" (TEDx Anchorage talk)
How the heck did I miss that Marian Call did a TEDx talk?! There's no music in this one, but she does draw a parallel between valuing music and valuing community. That which makes a community unique and interesting may not be profitable, but that doesn't make it any less valuable. Ditto music. So we should support the uniqueness of our community just like we should support artists that we love. I agree.
Richie Branson and Random – "Super Nintendo, Sega Genesis"
Not strictly speaking a video, but it's a really great song. I mean, Richie Branson and Random rapping about SNES and Sega Genesis using riffs from the Jackson 5 and the Notorious B.I.G.? How could it possibly be anything other than awesome? Answer: it couldn't.
---
Since I'm writing about videos, I'd also like to take a moment to mention a couple of YouTube channels that feature plenty of geeky stuff, some of which is even music related. First up is Felicia Day's Geek and Sundry channel (from which the video above is taken, actually). By far my favorite show on this one has to be Wil Wheaton's Tabletop. It really makes me want to get into tabletop gaming. I'll just have to convince my neighbors and my wife…
And next up is Chris Hardwick's Nerdist channel. Since Hardwick is a member of the band Hard 'n' Phirm, there are, of course, a few of their videos on the channel. Other highlights include All-Star Celebrity Bowling (which is great even if you're not a fan of bowling) and Face-to-Face with "Weird Al." But the best has to be the skits from Kids in the Hall, with recent commentary from the members. Man, that show was so great!
Dedicated Servers
,
dr. noise
,
felicia day
,
marian call
,
Mega Ran aka Random
,
nuclear bubble wrap
,
Richie Branson
,
Sci-Fried
,
sulfur
,
superpowerless
,
the doubleclicks
,
Unwoman