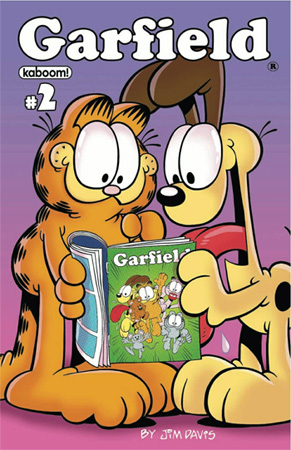 Issue: Garfield #2
Created by: Jim Davis
Writer: Mark Evanier
Art: Gary Barker and Dan Davis
Colors: Lisa Moore
Letters: Steve Wands
Covers: Gary Barker
Publisher: kaboom!
The first story in this issue, "Sticking Point", begins with Garfield telling Odie that he will not throw a stick for Odie to chase after. After a change of heart and a throw of the stick, Garfield goes back inside to watch America's Got Pasta! but sees a news report of a strange spacecraft, which turns out to be true.
As the ship crash lands, a part of it breaks off and Odie picks it up, thinking it's his stick. Odie brings the "stick" back to Garfield, who unknowingly releases its power by wishing for a pizza. And then twenty pizzas. And then fifty pizzas. He then wishes Jon away because Jon is playing the accordion badly. The cat then realizes the "stick" is doing everything.
Meanwhile, the alien reports back that Garfield has the "stick", really called the power rod. His boss tells him to destroy it, even though it means the alien will be stuck on Earth for the rest of his life. The alien zaps the power rod and Garfield is then flown across the city, barely hanging on. The alien flies next to Garfield and explains that if Garfield wishes this never happened, things will go back to normal. Garfield is reluctant because he wants to use the rod to get him food, but he wants to live, so he agrees. It then ends at the beginning and with Jon still taking up the accordion.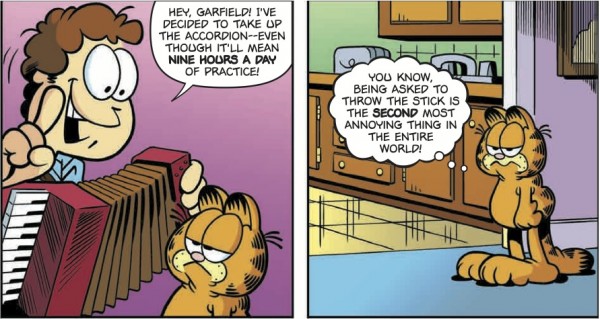 The second story, called "Down For The Count", has Jon counting jelly beans in a jar for $500 dollars, if he guesses correctly. Liz, his girlfriend, comes up to him and begins talking. He asks her not to bother him as he is up to 1,429, but when she tells him her new phone number, he has to start over. Garfield, meanwhile, is on the run from the hotdog vendor because the cat ate nineteen hotdogs and one knackwurst without paying. Both cat and vendor knock into Jon, once again making the man lose count.
Garfield hides from the vendor by nabbing a coat and pretending to be a person, but is caught out when an employee of a clothing store yells that Garfield stole the coat. Then, he runs from both of them while Jon loses count once more. Garfield hides in a tree, but the branch breaks from his weight and he falls onto the vendor's cart, which rolls downhill.  He manages to get mud on a woman's dress, who joins in on chasing Garfield down. Jon loses count again, but Garfield correctly counts the number of jelly beans, winning Jon the $500. However, the people who had been chasing Garfield slowly take it away from him.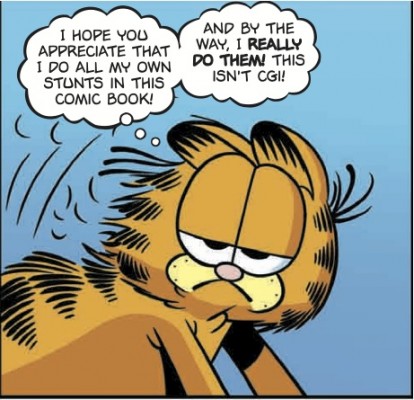 This was another good issue! It seems aimed at kids, but many jokes are for adults, as most kids probably would not get an honest politician joke or a stunt joke. It stays true to the Garfield of the newspaper comic and is a fun read. Garfield's one-liners and Jon's faces are just as funny as they ever were. It's full of in-jokes, like the cover of this issue, which shows Garfield and Odie reading the first issue. The first story had more plot, but the second comic was hilarious because you knew Jon would never count all the jelly beans and that Garfield would keep crashing into him. Garfield even makes a comment about that, breaking the fourth wall and keeping the comic interesting. This is definitely worth checking out.