If you're an avid Fandomania reader, chances are you're also a gaming geek (it's okay, we're gaming geeks too!). If Xbox 360 is your console of choice and you own a copy — or know a way to snag one from a friend — of BioShock 2, then we have some good news for you!
Jhonen Vasquez, the creator of the Johnny the Homicidal Maniac comics and the Nickelodeon cartoon series Invader Zim, dreamed up the image of "The Sisters" as the first in a series of four artworks commissioned for BioShock 2. Each of the artists involved was tasked with creating their own unique image of Rapture, the fictional city where BioShock and BioShock 2 take place.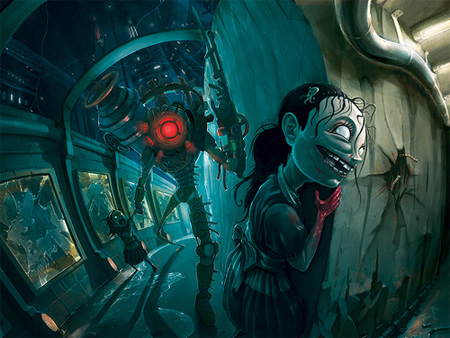 Luckily for all of the BioShock 2 fans that read our Web site, Vasquez will come to Xbox LIVE this Friday, February 19th, to play BioShock 2 with Xbox LIVE Gold Members. The event begins at 8:00pm EST (5:00pm PST), and interested Xbox LIVE Gold Members are asked to send a friend request to the Gamertag that Jhonen will be using for this Game with Fame event: BioShock2Jhonen
For information on this Game with Fame session, visit the event's web page. For information on future Game with Fame events you can follow the official Game with Fame Twitter account.
Note: Only Xbox LIVE Gold members can access this event. To sign up for an Xbox LIVE account or to upgrade your existing Gamertag, visit the Xbox LIVE web site. If you plan to participate in this event, please be sure to send friend requests to the Gamertag listed above and log into your account at least half an hour in advance (7:30pm EST/4:30pm PST).