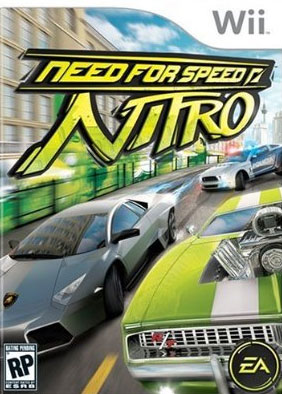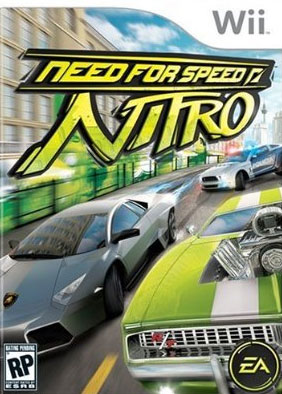 I'm a longtime fan of racing games but not so keen on the Wii as my chosen gaming platform. It was with some conflicted preconceptions, then, that I dove into Need for Speed Nitro, the first game in the venerable Need for Speed franchise developed specifically for the Wii. How much fun could a generally intensive series like NFS be when propelled by the Wii's limited horsepower? Quite a lot, as it turns out!
EA Montreal made some excellent design decisions right out of the box. Given that a lot of gamers, myself included, never quite warmed to the Wii's native "waggle a stick at the screen" controls, NFS Nitro lets you choose between five different controller configurations. I tried a few of the options, but in the end I went old school by hooking up my Gamecube controller. If you are a fan of the Wiimote, nunchuck, racing wheel, and all that white plastic goodness, however, you'll be able to jump in with those as well.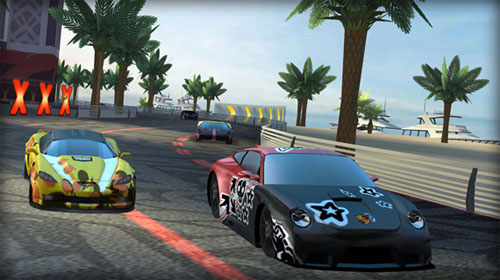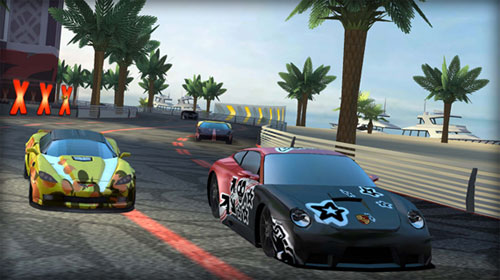 Upon starting the game up, it becomes immediately apparent that EA has tooled this new iteration of Need for Speed specifically with the Wii console and audience in mind. It's not a super deep and realistic racer or tuner like the various Forza, Gran Turismo, or even other recent Need for Speed games. Rather, it goes the Burnout route by simplifying a lot of the options, adding in some toggles to make controlling the car a bit easier, and focusing on an exciting and action based arcade-style build. That's the perfect direction for a Wii racer like this to go.
The graphics in Nitro are cartoony and intentionally unrealistic, a wise choice given the processing power that's needed to render some of the realism in the non-arcade driving games on the beefier game systems. Characters are very stylized, and the cars themselves, while based on real makes and models, are a little boxier than their real world counterparts. You can customize your cars with different colors and stickers, but there's no way to impact the actual functionality other than switching to a different ride. And even then, the differences lie mostly in the speed capabilities; the handling feels very similar between all the vehicles I tried out.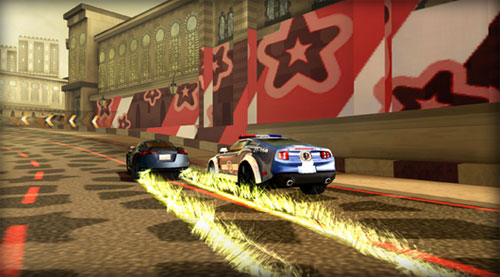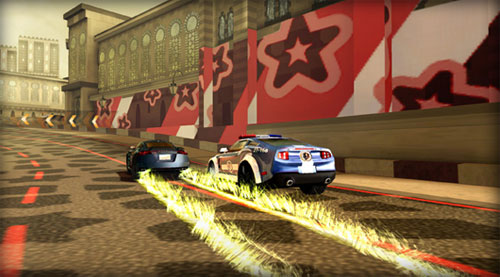 Need for Speed Nitro features thirty different cars across three different tiers you can explore, and you'll be racing on fifteen different courses that spotlight some locales that previously have been underrepresented in driving games. The career mode starts you off in Rio and takes you around the world to other surprising locations like Dubai. The game offers several race modes, including standard circuit races, drag races, and elimination. As you proceed through the races in your current career locale, you'll earn stars based on your performance. Stars will unlock the next location, new vehicles, and more events.
The racing itself is very arcadey, relying mostly on pointing your car in a direction, boosting with nitro, and watching it go. You'll do a lot of drifting around corners, and you'll often find yourself careening into walls and other cars. As you crash into things, your car will take damage, which is represented by changes in the textures rather than by actual geometrical changes. If your car becomes too damaged, you won't be able to boost for as long. Fear not, though, because the tracks are littered with wrench icons you can pick up to repair your vehicle on the go. Your boost builds in a very Burnout way, awarding you more nitro for pulling off jumps, drifting well, and performing various other acts of reckless driving.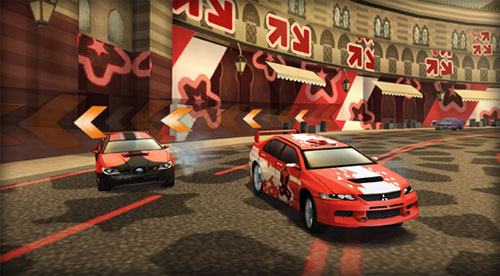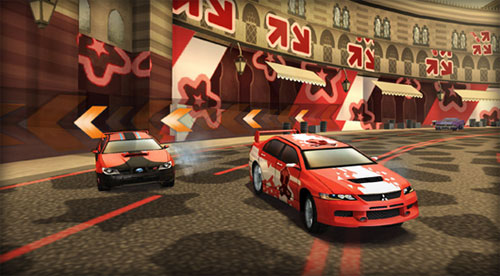 As you speed around the tracks, you'll undoubtedly attract the attention of the cops, a hallmark of the Need for Speed series. You have a "heat" meter in the top right of the screen that measures the level of trouble you're in. The more heat you have, the more vigorously the police will come after you. You can decrease your own heat by picking up police badge icons around the tracks, and you also can put heat onto other drivers to send the cops after them. The police don't seem as bloodthirsty here as they have in other NFS games, but they most definitely will try to ruin your day with some well placed rams and nudges.
The tracks themselves are linear and blocked off so that you won't get lost along the way, but also so that you can't do any exploring. It lends to the breakneck arcade feel, and the game conveys its sense of speed very well. You'll want to try out all the different cities to get the varied flavors of scenery, and it's all even better when you throw more players into the mix. There are co-op and competitive multiplayer modes that allow up to four players to drive at once. My favorite twist here is in the elimination mode, where eliminated drivers come back to play as the police, trying to make the surviving drivers' lives difficult.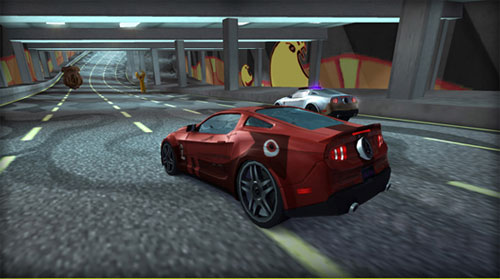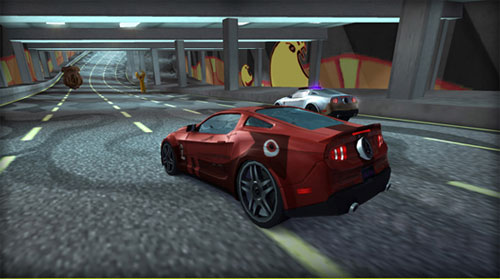 And speaking of difficulty, it really ramps up as you progress through the career mode. The first few races are pretty simple affairs that will award you with lots of stars for very little effort. Once you get out of Rio, though, things become a little more challenging, eventually leading to some truly hard matches.
If you're a fan of arcade racing games, you can't go wrong with Need for Speed Nitro. My own personal bias against the Wii aside, this is a solid and fun racer that offers some fun and exciting gameplay that's otherwise missing on the console. Need for Speed Nitro is the best Wii racing game I've played, and for my money its modes, tracks, and general gameplay blow Mario Kart Wii out of the water.
Buy it here:
Amazon
Rating: 4 / 5 Stars