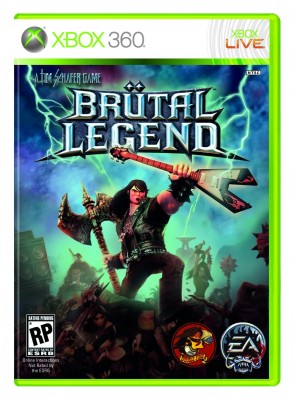 Game: Brütal Legend
Platform: Xbox 360, Playstation 3
Developer: Double Fine Productions
Publisher: Electronic Arts
Release Date: October 13, 2009
Video game developer Tim Schafer has been known for creating some of gaming's funniest material. Games like Full Throttle and Escape From Monkey Island pushed Schafer's name into the industry, while Psychonauts really put him on the map towards a more mainstream audience. With Brütal Legend, Schafer seems to have accomplished creating one of the most original games I've ever played, and definitely one of the best I've played in all of 2009. Simply put: this game is extravagantly fresh.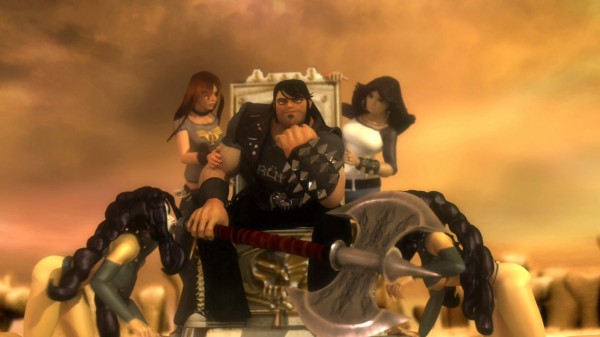 The story's hero, Eddie Riggs, is a roadie for a terrible mainstream band named Kabbage Boy, whose sound seems to reflect both nu-metal and emo. During one of the band's shows, Eddie is injured by a piece of the stage, and has his own blood spill out on his belt buckle. His buckle then opens some sort of portal that releases a massive fire-breathing beast that kills all of the members of Kabbage Boy and begins to attack the audience. As the rampage goes on, he gets sucked into a strange land that is seemingly parallel to heavy metal music videos and album covers, full of colossal statues, fire, mystical beasts, and loads of metal chains and studded leather jackets.
As the story unfolds, it doesn't get at all complex. Despite this, the sarcasm and wit of all dialogue and story situations provide some very funny musical metaphors and jokes, and make the story much deeper than what's presented. The game constantly pokes fun at mainstream bands and subgenres and subcultures of the music scene, such as emo music, gothic kids, and hair metal. Hell, some of the smaller villains in this game are pretty much scene kids and mall goths that you can pretty much murder with your giant battle axe or guitar in any way you please.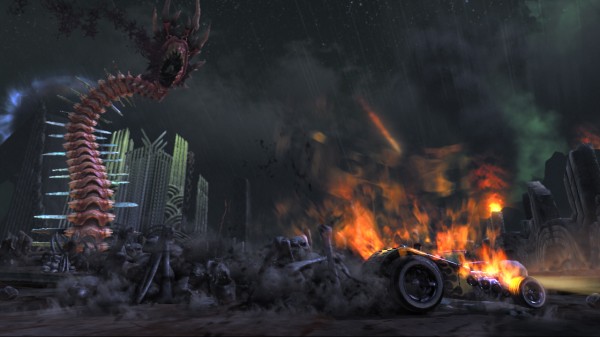 The fighting in this game is fantastic. The attacks with your axe and guitar both allow the player to unleash some very brutal (pun intended) damage on your foes. Aside from basic hack and slashing with the axe, players can use the guitar to shock enemies or light them on fire. They can also play the instrument to allow for some special attacks. By tapping a short sequence of buttons at the right time (similar to a rhythm game), the guitar can attack a wide range of nearby enemies at the same time. My personal favorite attack is the "Facemelter," which allows the player to melt nearby opponents' faces off and instantly kill them.
Perhaps the greatest part of this entire experience is the voice acting and dialogue. Not only does Jack Black play a role in this game, the Prince of Darkness himself, an understandable and clearly spoken Ozzy Osbourne, does as well. Other metal voice acting includes Lemmy of Motörhead, Rob Halford of Judas Priest, Kyle Gass of Tenacious D, and Ronnie James Dio of Dio. The all-star cast also includes actor Tim Curry, comedians David Cross and Steve Agee, and a handful of other guest appearances, each providing humorous dialogue and stupendous acting.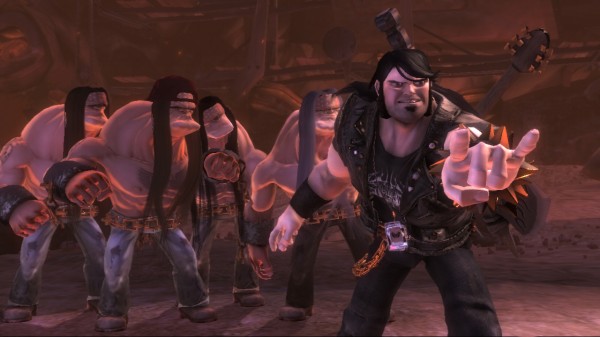 Music in this game, as you probably guessed already, is purely all metal. Bands like Rotting Christ, Scorpions, Mastodon, King Diamond, Black Sabbath, Dethklok, Slayer, and Kiss are included in this mammoth of a soundtrack. All together, the game features 75 different bands and 107 overall metal tracks to cruise around the immense world to.
In between every story mission, there are multiple side missions you may choose to complete. This gives players the opportunity to get extra spending points for upgrades on their weapons or car, or just the chance to explore the massive world Brütal Legend holds. I've spent multiple hours driving around the map, gazing at hidden easter eggs metalheads may enjoy spotting, running over and hunting beasts who roam the land, and jumping off of massive hilltops located in the sandbox-type environment.
As much fun as I had with this game, I unfortunately did find a couple of problems that made the game less enjoyable and a bit frustrating at times. The overall story is a short one, excluding side quests and exploring you may do. There's not an abundance of things to do after completing the game. I also found the side missions to be very annoying after awhile, as most of them were just repeats of the last, and there wasn't much variety between them.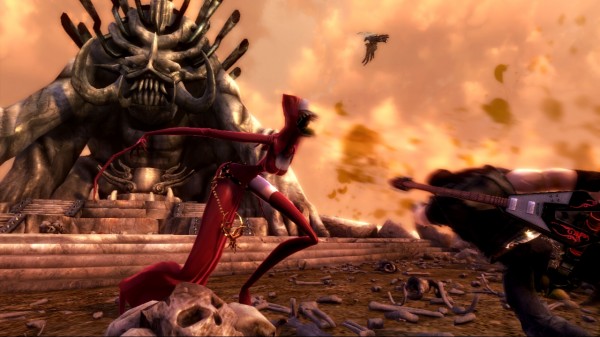 The most disappointing aspect of Brütal Legend are its Stage Battles. Stage Battles combine both third-person hacking and slashing with RTS elements, making the player defend a base, in this case a stage, while simultaneously creating new troops to attack the enemy army and roaming around the map to attack as well. It seems quite obvious that this decision could have been better executed for the PC rather than a console, due to controllers having limited buttons to use. I found myself constantly having a base being destroyed because I couldn't see what was going on in the area at all while I was fighting off my own horde. Giving orders to specific troops is also difficult, since you can't mark exactly which ones you'd like to move.
Despite these few shortcomings, Brütal Legend is a very original and humorous game. The creatures in this game are refreshing to see, the plot is extremely hilarious, and the overall feel of the world that Tim Schafer has created is a breath of fresh air. Tim Schafer fans and metalheads alike can both appreciate this game for what it is: a gory, vulgar, mystical adventure with Jack Black ripping apart as much ass as he possibly can.
Rating: 4 / 5 Stars