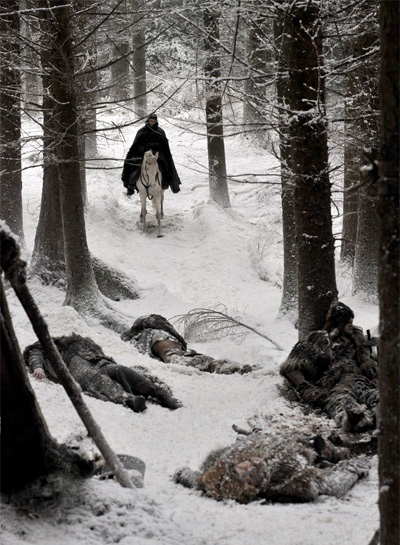 Springtime with HBO is sounding better and better. HBO has given the greenlight to a first season debut (pilot plus nine eps) of Game of Thrones, the George R.R. Martin fantasy series that has generated huge online interest already. Each of the four (so far) books in Martin's A Song of Ice and Fire will form one complete season. Martin, who also wrote TV's Beauty and the Beast, will write each episode as a cliffhanger.
The show interested Sean Bean, too. He'll play Stark family patriarch Eddard, who becomes right-hand man to the king in the mythical land of Westeros.
The series shoots in Northern Ireland and other countries, and stars as Stark family members, in addition to Bean: Jennifer Ehle as Catelyn, Richard Madden as Robb, Sophie Turner as Sansa, Maisie Williams as Arya, Isaac Hempstead-Wright as Bran, amid a large, exciting cast which also includes Lena Headey, Mark Addy, Peter Dinklage, and Jamie Campbell Bower. A full cast list with photos can be found at the THR's Live Feed.