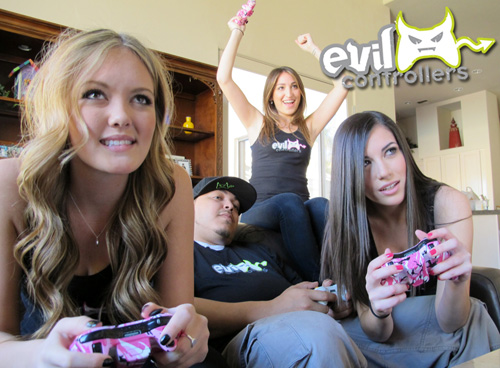 Having you been feeling left out, unrecognized, or underappreciated in gaming, ladies? Well, Evil Controllers has announced that this February is Girl Gaming Month.
This month will be all about women's empowerment — and, with a few new developments from within the Evil Labs, Evil Controllers hope to do just that — to find a way to empower any girl's game.
February 1st marks the release of brand new imaging for all of Evil's controllers, the tough as nails yet stylish Pink Camouflage controller. A little bit of pink might just be what everyone's game needs, men and women alike.
The Pink Camo controller will be discounted to begin with, or can be bought together with the Girl Gamer Evil Bundle, a basket of goodies we hope will make any girl smile. The bundle will include the Pink Camo controller with a basic Auto burst mod that can be upgraded at extra cost; a brand new tank top released from Evil vs. Evil; an extra pair of Evil Sticks; and Evil's signature keychain. The shirt will include Evil's logo with a bit of a feminine twist.

The Pink Camo Imaging add-on will sell at a discounted price of $34.99, marked down from retail price of $44.99, and can be added to any of our modded controllers. A non-modded Pink Camo Controller will sell for $79.99, ten dollars off of retail price $89.99. The Bundle will sell for $154.99, giving buyers a $110 discount from the total value of $264.99. The tank top will be sold separately at $14.99.

Evil Controllers will also be hosting a video competition in tandem with OpTic Gaming that will run during the course of the month, beginning on February 1st at midnight and ending at 11:59 p.m. on February 28. The competition will encourage girl gamers to upload their best gaming montage videos to the OpTic Girl's Channel with the montage music being one of Midnite's 5 song choices. A winner will be selected based on the quality of the montage, player ability, and editing. The contest winner will receive an Evil Controller's Pink Camo Controller. More information will be found on February 1st on Evil Controllers' blog or at OpTic Girl's Channel.
In addition to shining some light on the female gaming population with this event, Evil Controllers will have a portion of the proceeds for every controller bought during February donated to the Susan G. Komen Foundation in support of breast cancer research.