Just the other day I was talking about how weird it is to comprehend that someone born in the '90s is a legit adult now. Those born in '93 can buy you a drink at a bar and at almost 30 you can blush but then freak out. Those born in '97 can vote and that just boggles the mind. You know what else can make you feel like a senior citizen? The fact that Buffy the Vampire Slayer could also cast a ballot today. Yes, the show that made Sarah Michelle Gellar premiered March 10, 1997. So I thought it was only right to shine the fangirl light on her this this week because to many she's an undead fighter but to me she'll always be a witch with a capital B.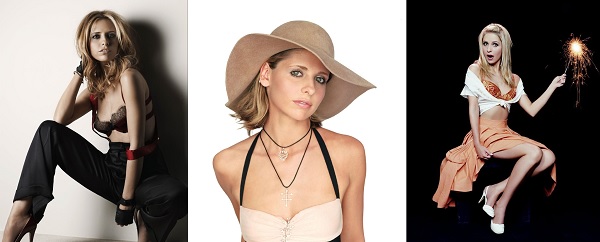 Name: Sarah Michelle Prinze
Birthday: April 14, 1977
Place of Birth: New York City, NY
Twitter: @RealSMG
Best Known For
SMG (what her close and personal friends I'm sure call her) started acting when she was a mere six years old. Then she became a staple in daytime when she landed the role of Kendall Hart Lang on All My Children. After that it only took a few years for her to make the jump to primetime and worldwide stardom as the lead in Buffy the Vampire Slayer. During that time she was one of the hottest stars alive. Teen magazine readers couldn't get enough of her as she scared many with I Know What You Did Last Summer and Scream 2. She then scared for other reasons with Cruel Intentions. After that she started to do lighter roles in Scooby Doo and voicing an array of characters in Robot Chicken. Most recently she had a short run starring alongside the one and only Robin Williams in The Crazy Ones. Now she's taking her career on a new path as Cinderella doing Princess Rap Battles.
5 Quick Sarah Michelle Gellar Facts
Her parents divorced when she was seven and as a result she doesn't have a relationship with her father. Gellar once said in an interview, "I don't have a father, I would never give him the credit or acknowledge him as my father."
She used to ice skate competitively.
Actually, she started acting sooner than six. She starred in a Burger King commercial when she was five.
Gellar is a huge sports fan.
She could appear on that Extreme Couponing show. She said, "I clip coupons all the time. Why should you pay more for something that someone else is paying less for?"
Reasons You Love Sarah Michelle Gellar
Let's be real, 90% of your love for Sarah Michelle Gellar comes from her time as Buffy. That show is a cult classic forever and always and that's in part to your dedication to and admiration for her kick ass character who embodied the power and strength you wanted for yourself. Some of you decided to take self defense because of her, some of you started to speak up for yourselves, and some of you just attached yourself to the show and character for a cascade of other reasons that vary but are all wonderful. Can I suggest for a better in-depth look at what this show in particular can mean to someone? Check out the article Lauren did in her Characterized by Nostalgia series here.
After the Buffy fandom, many loved Gellar because when it comes to the '90s — she's one of the best of the bunch in terms of teen idols. She was the first crush to many and the girl that so many others wanted to be. She had this girl next door appeal but was anything but as she tackled scary movies like a boss. Okay, she didn't make it out so good in most — but at least she got a good scream out of you.
Then there are those who love her because she's got a fairy tale-like romance with former co-star and now husband Freddie Prinze, Jr. They started doing movies together in the late '90s and then married one another in 2002. Now they have two kids and to those who were young in that decade, they are couple royalty forever and always. If only Justin and Britney had the same love luck — sigh…
While she'll always be Buffy, your love for Sarah spans from Sunnydale to her time in horror to her real life romance. Plus, it's nice that you can still see your girl today. She didn't fade away as soon at her hit show went away.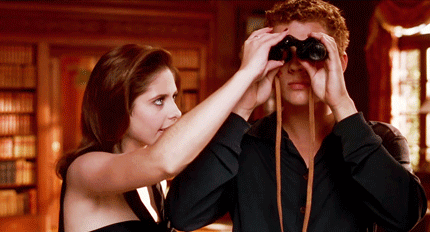 Reasons I Love Sarah Michelle Gellar
Back in the day I was reading the TV Guide. Yes, there was a time when the TV schedule was printed and had to be bought at your local grocery store. Luckily that Great Depression-like era is over and done. Anyways, I was reading the Guide and saw that Buffy was on one day. I turned it on and was so mad. I thought it was the 1992 movie starring my love Luke Perry. I was beyond peeved that it wasn't Kristy Swanson but some other girl who would later become the meanest girl I'd ever seen — but somehow loved.
Your Buffy is not mine and while I liked I Know What You Did Last Summer, those are not reasons I love SMG. She could've only done Cruel Intentions and I would remember her name today because her character in that dark and twisted tale is drop dead fabulous. You love to hate her and hate to love her. Kathryn Merteuil embodied everything that is evil. She played constant mind games and in the end barely got what she deserved. Plus, anyone that was around 12-13 during that time learned a whole lot about sexual things from that film and for that, I'm thankful. I mean, did I use any of it? God no, but it was good to be in the know.
So while I've never appreciated her time as Buffy, I will always love her insane ways in Cruel Intentions.