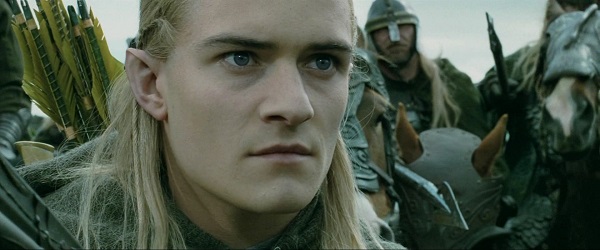 This week couldn't come soon enough. While I love Orlando Bloom's face, hair and body, I could not wait for The Hobbit: The Desolation of Smaug to come out. The sooner it's in theaters, the sooner the commercials will stop. I'm tormented daily by the world "Smaug." That has to be the ugliest sounding word next to Internet jargon like "birfday." Horrible sounds aside, this week we're focusing on the Brit who's been in our lives for a really long time. His career may make me feel old, but how could I or you ever hate Orlando Bloom?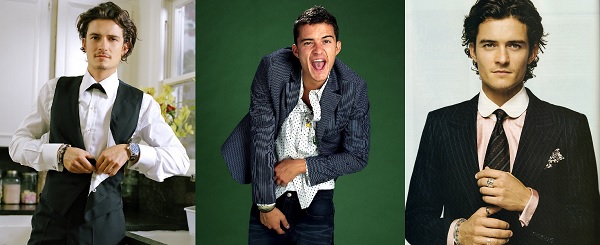 Name: Orlando Jonathan Blanchard Bloom
Birthday: January 13, 1977
Place of Birth: Canterbury, UK
Fangirl Fansite Shout Out: The Orlando Bloom Files
Best Known For
He acted before 2001's The Lord of the Rings: The Fellowship of the Ring, but it was his role as Legolas Greenleaf that made him known around the world. The sequels that followed for a couple years only helped his long, blond locks get more cemented into pop culture. The same year Legolas shot his final bow in the Lord of the Rings trilogy, Bloom started another franchise: Pirates of the Caribbean. He played Will Turner for three films alongside Johnny Depp. Those movies made a buttload of money, and in between those he did Troy and was too normal in Elizabethtown. After Will Turner was sanctioned to the sea, Bloom lost the sword for New York, I Love You. It had a ton of people in it, but no one really saw it. He picked up a weapon again for The Three Musketeers but even fewer people saw that. Now he's back as Legolas in The Hobbit for that unmentionable one out this Friday, and There and Back Again, out in 2014.
5 Quick Orlando Bloom Facts
He used to be a vegetarian.
Remember Jamiroquai? Orlando will never forget them because that was his first concert.
He could whisper sweet nothings in your ear in French.
Orlando was awarded two Teen Choice Awards for "Choice Movie Liplock" with Keira Knightley.
In 2009 he became a UNICEF Goodwill Ambassador.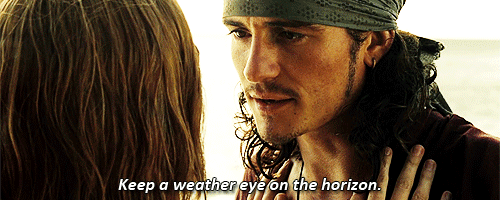 Reasons You Love Orlando Bloom
Let's be real, Orlando Bloom lucked out when it came to a career. He was able to score not one, but two franchises that not only do really well but have cult-like followings and you're a part of one or both. We'd go into his looks, but that's part of the whole package whether he's shooting an arrow or saving Elizabeth Swann.
He's done other roles and you've seen those movies. You love Bloom enough to give those a chance but you always fall back into the series that made him a force to be reckoned with in your life. For those who can't help but swoon over those long locks when he's Legolas, you may've been attracted to an elf before but holy hell — when Orlando stepped into the role, you lost it. It doesn't matter what you drew up when reading the books, you couldn't have imagined him looking as or being as great as Orlando is in that role. He says little but those archery skills continue to drive your hormones bonkers.
Then there's Will Turner in Pirates of the Caribbean. He was never as cool as Jack Sparrow, even you can admit that, but when it came down to it, Bloom was your guy because he was the one you could count on. So he'll be sentenced to live at sea, so what? You'd wait for that one day between the years that he could come ashore. He's worth it, forever and always. Let's not forget you threw a fit when he didn't return for the other Pirates. Your friends still like to make fun of you for that.
You'll see Orlando Bloom in anything. That was proven when you dragged someone along to New York, I Love You. They're now seen as your BFF and you still owe them big almost six years later. Anyways, those movies may exist but it's Bloom's roles as Legolas and Will Turner that make you continue to love him.
Reasons I Love Orlando Bloom
In high school my room was completely engulfed in posters and one wall was split between Orlando Bloom and Hayden Christensen. My mom even managed to get some Pirates promo thing from the local gas station. I may or may not still have that somewhere. Anyways, I was way into that guy back in the day, and the crush may not be as obsessive as it once was but it's still there.
Have I seen Orlando Bloom in anything but Pirates of the Caribbean? Yeah, I watched the first Lord of the Rings but quickly fell asleep during the second. One time I enjoyed Elizabethtown on TV, and I almost swept it out of the bargain bin at Big Lots the other day. Oh and there was that time I went to the theater and saw Troy. While I may've had brushes with other roles, my love for Orlando sits high with Pirates.
Legolas got my attention because I am the biggest fan of boys with pretty hair (we've totally talked about this before — paging Chris Hemsworth), but those movies failed to keep me entertained. So you can imagine how happy I was when Bloom headed out to the high seas as Will Turner. Oh Will, the love between him and Elizabeth was admirable, his accent was undeniable and his looks were never not adorable. Plus, who knew he could be so funny?
My love for Orlando Bloom remains with Pirates and I wish on every fallen star that his butt jumps onboard for the next one. Break the curse, bring him back! Our luck he'll make an itty bitty cameo but, hell, we'll take it. Will Turner, the TV marathons aren't enough. We — I — need you back.