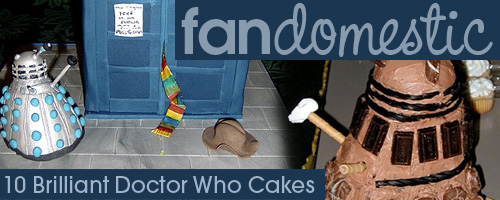 Fandomestic is a new feature Celeste will be writing that looks at how people integrate their fandoms into their everyday lives. Here's the first installment, and you can check back every Thursday for a new article.
Making cakes based on Doctor Who has been popular ever since the UK children's show Blue Peter featured a how-to back in the '60s for making chocolate Dalek cakes (they did an updated tutorial prior to the start of Series 3). But Daleks aren't the only subject of cakes themed after the show. Here are ten cakes to cross time and space for (in no particular order).
1. "Extermination by Chocolate" Dalek Cake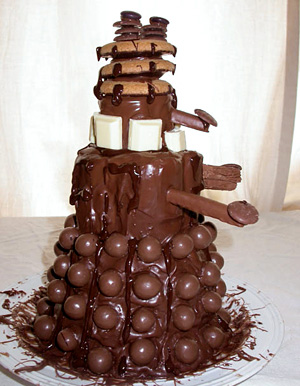 This 15-inch-tall Dalek cake featured at Chocablog is the ultimate in chocolate decadence. Maybe Davros should consider chocolate for his next upgrade.. although then I'd probably eat them all.
2. TARDIS On A Red Planet Cake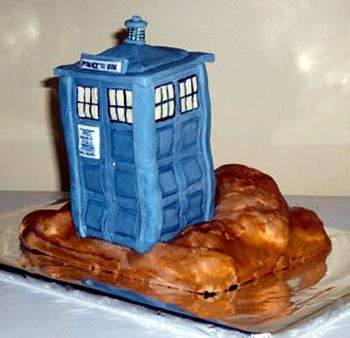 Hard to believe, but both the TARDIS and the planet base of this cake by Umbrolly at Craftster are made of moist chocolate cake. I have enough trouble putting chocolate frosting on a chocolate cake, so I'm pretty frakkin' impressed with the detailing on the TARDIS here.
3. TARDIS Birthday Cake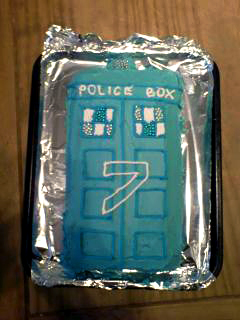 Creator tazzell at Craftster made this for her daughter's 7th birthday, and laments, "Unfortunately this cake wasn't bigger on the inside." Alas, that Time Lord technology could be applied to desserts!
4. Iowa UNIT Chocolate Dalek Cake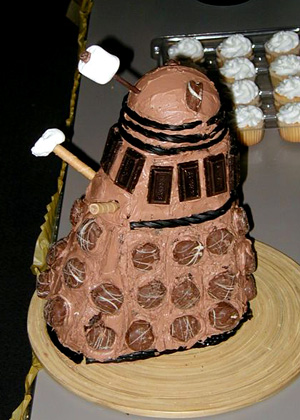 Made as a birthday cake for an Iowa Doctor Who fan group, UNIT, this Dalek cake based on the Blue Peter design looks like it was positively delicious to exterminate.
5. K-9 Cake & Dalek Cupcakes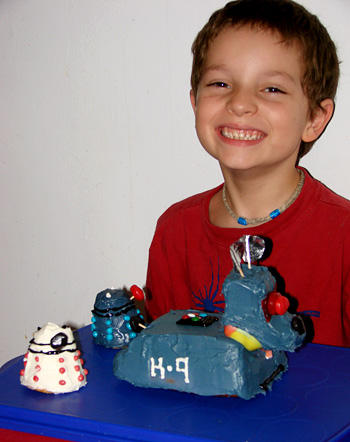 This little chap's 7th birthday cake request was K-9. TOO CUTE. Cuter still is the result made by his mom, Ezri_B at Craftster, along with the little Dalek cupcakes running behind.
6. Bad Wolf TARDIS & Dalek Cupcakes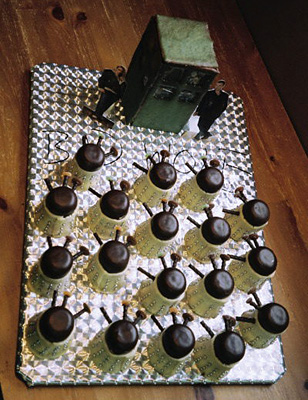 Rose and Nine guard a gingerbread TARDIS being attacked by Daleks made from upside-down cupcakes topped with teacakes. With this duo, it's only natural that "BAD WOLF" is scrawled across the cake board to complete this confectionary diorama made by Yersinia.
7. Four's TARDIS Birthday Cake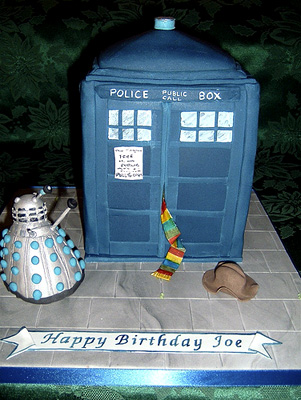 We've already seen three TARDIS cakes, but this is the first to feature the Fourth Doctor, Tom Baker. Or, to be more specific, his iconic scarf and hat. Flickr user abbietabbie makes cakes as a hobby, and this one was "for a Dr. Who fanatic."
8. Rainbow Dalek Cake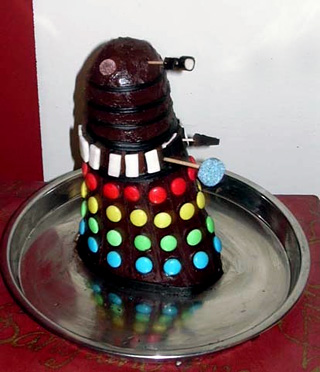 If there were a disco Dalek, surely this is what it would look like. Made for a friend's birthday by Brainless Angel at Flickr, this cake (also based on the Blue Peter tutorial) mixes chocolate with licorice and colorful candy buttons.
9. Jen's Pro TARDIS Cake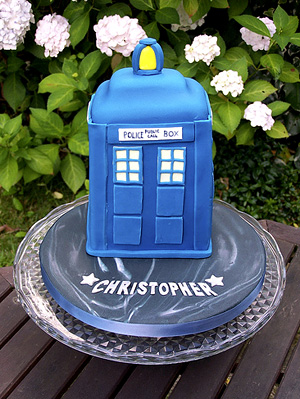 The final TARDIS cake in the list, this is the only one made by a professional cake baker, Jen's Cakery. Along with most of the other cakes featured on the list, it's made of chocolate and appears to be frosted with smooth blue fondant.
10. Chocolate K-9 Cake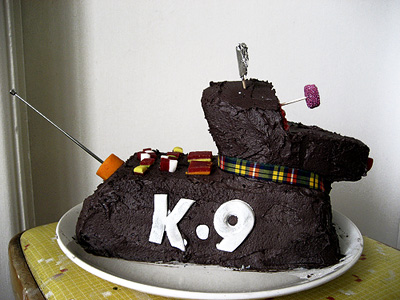 There must be something about seventh birthdays that makes kids have great taste in cake themes, as this is the third on our list to have been made for such an occasion. Bollops at Flickr made this one featuring K-9 with a few different kinds of candy for buttons. Delicious? Affirmative!