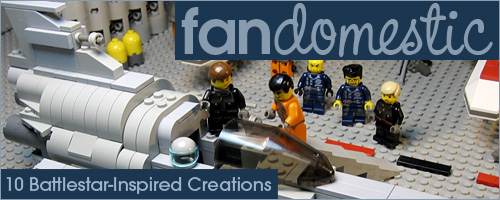 Tomorrow marks the end of the road for the reimagined series of Battlestar Galactica. In honor of the finale, here are ten fan-made creations inspired by the series.
1. Starbuck's Mandala Hat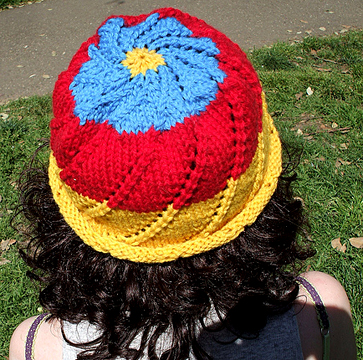 QuirkyKnitGirl immediately thought to make this hat after seeing the mural on Starbuck's wall. She offers a pattern to anyone inspired to do the same!
2. Lieutenant Hello Kitty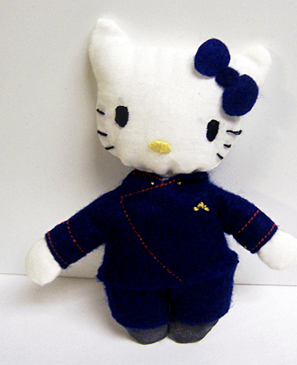 Well, I'm not sure of her rank, actually — but she's ready to go in her duty blues and handmade by lilninjabear on Craftster as a present for a coworker.
3. My Little Starbuck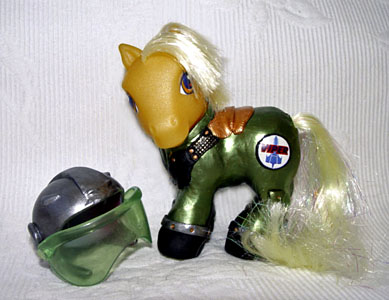 Suited up and ready to go hunting, it's a custom Kara Thrace My Little Pony made by Bad Pony Creations. She sculpted the flight suit, modified the helmet, and hand-painted it all.
4. Battlestar Galacticake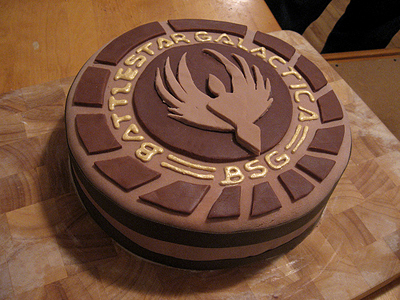 Flickr user jennyvier made this BSG cake for her friend's birthday. It's decorated with homemade chocolate fondant, with edible gold dust for the lettering.
5. Cylon Centurion Hat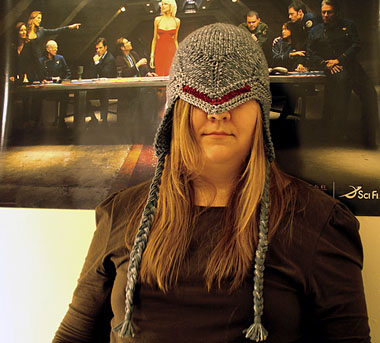 Wonderfallz (who gets extra points for the username) knitted this hat inspired by the Cylon Centurions. She even provides a pattern on her site.
6. Amigurumi Roslin & Adama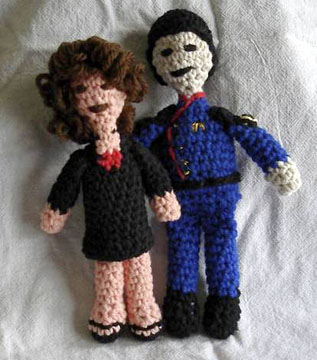 Craftster member mplsdeanna crocheted the reigning couple of the Galactiverse as a gift for her son's preschool teacher, with whom she has bonded over the show.
7. LEGO Mark VII Viper & Hangar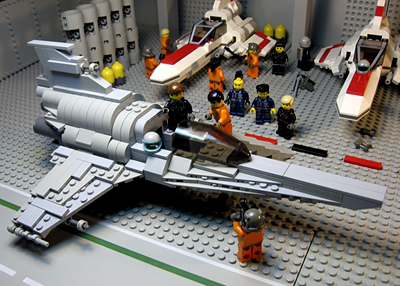 Captain-Nakota on Brickshelf constructed this Viper from LEGOs, looking to have just entered the hangar deck with Apollo piloting and Chief inspecting as Tigh, Adam, and Starbuck look on.
8. BSG Computer Case Mod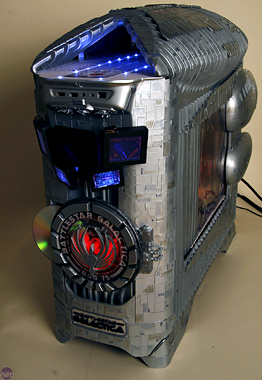 This incredible case mod by Bods Mods includes (among other things) a vertical CD/DVD drive in the seal on the front, engine pods on the sides, DRADIS monitors on the front, a motorized "airlock" on one side that reveals the computer's inner workings, and the landing deck on top with working running lights. He used reference pics straight from Zoic, and his attention to detail is simply frakkin' amazing. His site has many more pics as well as videos showing the working parts.
9. Starbuck's Mandala Purse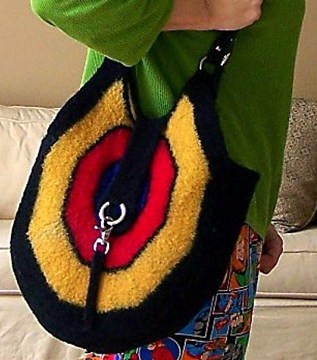 Like the hat above, this bag by PippsPurses on Etsy is inspired by Starbuck's Eye of Jupiter mural, hand-knit and felted.
10. Cylon Centuricorn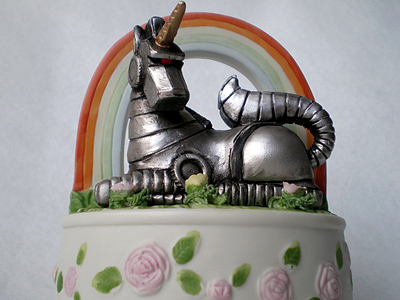 One of a growing set of modified animal figures, this unicorn has been Cylon-ified by Flickr user fuzzyballsapparel. It's not just awesome, it's also a music box. I wonder if it plays "All Along The Watchtower"?