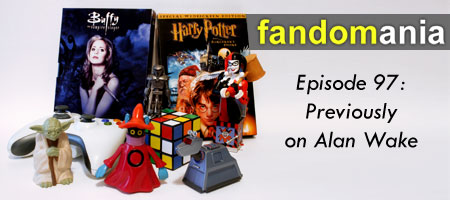 [audio:http://media.libsyn.com/media/fandomania/Episode_0097_-_Previously_on_Alan_Wake.mp3]
This week is our mega-Alan Wake discussion, in which we analyze and talk about various aspects of the game, as well as theories on what everything means. You'd probably benefit from finishing Alan Wake before listening, but we do have a couple of non-Wake topics as well. On this week's episode:
00:00:17 – Episode Opening
Movie Talk:
00:00:45 – Prince of Persia: The Sands of Time
TV Talk:
00:06:26 – Doctor Who: "Cold Blood" (spoilers!)
Game Talk:
00:16:39 – Alan Wake mega-discussion (spoilers!)
00:57:22 – Episode Closing
The music at the end of this episode is "The Poet and the Muse," from Alan Wake.