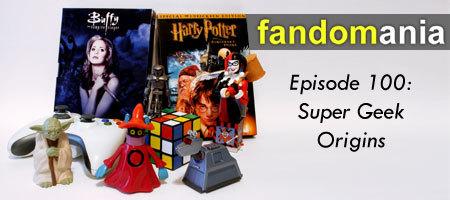 [audio:http://media.libsyn.com/media/fandomania/Episode_0100_-_Super_Geek_Origins.mp3]
On this week's episode:
00:00:45 – Episode Opening
00:02:29 – We're giving away copies of Suzanne Collins' new book The Hunger Games in this week's contest!
00:03:15 – We talk about the new Harry Potter theme park that opened in Orlando this past week.
Movie Talk:
00:07:23 – Prince of Persia is now the highest grossing video game movie ever. We talk a little about the movie and more about its implications for the genre.
TV Talk:
00:09:41 – Celeste reveals the real reason Jack Bauer stopped saying "Dammit!" on 24.
00:12:37 – Doctor Who: "The Pandorica Opens" and "The Big Bang" (spoilers!)
00:31:06 – True Blood: "Beautifully Broken" (spoilers!)
00:32:27 – Brief talk about Breaking Bad
00:33:57 – We answer our mailbag, in which Daniel asks about our super geek origins, and Grant asks about our upcoming conventions.
00:53:12 – Episode Closing