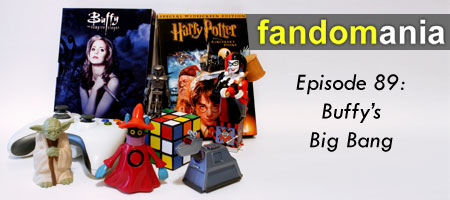 [audio:http://media.libsyn.com/media/fandomania/Episode_0089_-_Buffys_Big_Bang.mp3]
On this week's episode:
00:00:17 – Episode Opening
00:01:00 – We talk about Steve Jobs's announcement of the iPhone 4.0 operating system.
Contests:
00:07:03 – The first of two contests we're running this week is a Lord of the Rings giveaway!
00:08:10 – Our second contest of the week is all about Harry Potter.
Comics Talk:
00:09:36 – Buffy the Vampire Slayer #34 (spoilers!)
TV Talk:
00:21:42 – 24: "Day 8: 6:00am – 8:00am" (spoilers!)
00:26:10 – Chuck: "Chuck Versus The Other Guy" (spoilers!)
00:32:17 – Lost: "Happily Ever After" (spoilers!)
00:36:35 – V: "Pound of Flesh" (spoilers!)
00:40:33 – Human Target: "Victoria" (spoilers!)
00:43:05 – Fringe: "Olivia. In the Lab. With the Revolver." (spoilers!)
00:46:27 – Episode Closing