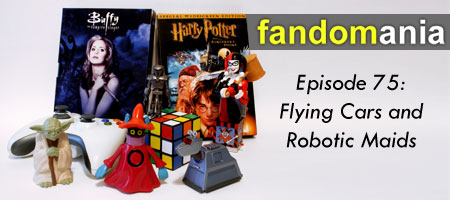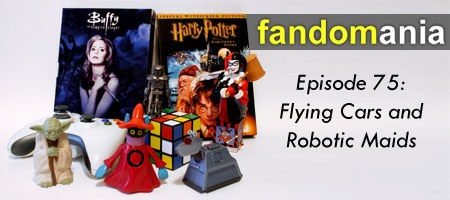 [audio:http://media.libsyn.com/media/fandomania/Episode_0075_-_Flying_Cars_and_Robotic_Maids.mp3]
On this week's episode:
00:00:16 – Episode Opening
00:00:20 – We wish our listeners a Happy New Year and talk about what we've been up to this week.
Movie Talk:
00:04:27 – Sherlock Holmes
TV Talk:
00:15:30 – Doctor Who: The End of Time Parts 1 and 2 (spoilers!)
Game Talk:
00:35:37 – Celeste has been playing more Shadow Complex.
00:36:45 – Jason gave Castle Crashers a belated try.
00:38:16 – Torchlight
00:38:50 – Borderlands: Mad Moxxi's Underdome Riot
00:40:52 – Older PS3 games: Uncharted and Flower
00:41:15 – We've both been boosting our Xbox gamerscore with bad games, and we talk about this week's horror (think: Miley Cyrus in a video game).
00:47:36 – Episode Closing