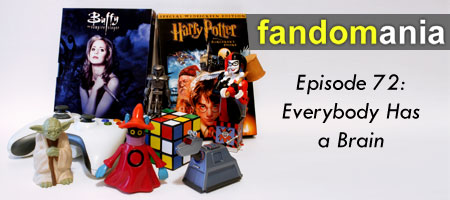 [audio:http://media.libsyn.com/media/fandomania/Episode_0072_-_Everybody_Has_a_Brain.mp3]
In this week's episode:
00:00:17 – Episode Opening
00:00:24 – Fractured-Simplicity.net has named Fandomania the December site of the month!
00:01:21 – Mailbag, with questions about Syfy's Alice and our thoughts about zombies and vampires.
TV Talk:
00:06:13 – Dexter: Hello, Dexter Morgan (spoilers!)
00:08:32 – Fringe: Grey Matters (spoilers!)
00:12:58 – Dollhouse: Meet Jane Doe and A Love Supreme (spoilers!)
Game Talk:
00:26:37 – Mass Effect 2 has an incredible voice cast list.
00:29:09 – We talk about the games announced and previewed at this year's Video Game Awards.
00:31:03 – Borderlands is about to get a second downloadable expansion.
00:31:44 – Celeste is seriously hooked on Dragon Age. Seriously.
00:35:19 – Jason talks about his first PS3 game, Infamous.
00:37:12 – Jason gives his thoughts on the PS3 vs the 360.
00:41:00 – Episode Closing
You can e-mail us at podcast@fandomania.com.