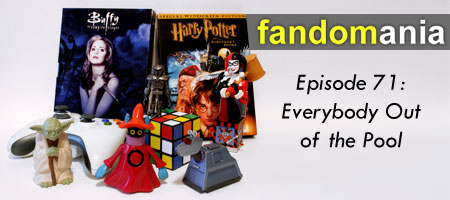 [audio:http://media.libsyn.com/media/fandomania/Episode_0071_-_Everybody_Out_of_the_Pool.mp3]
In this week's episode:
00:00:17 – Episode Opening
00:01:38 – We talk about our convention plans for 2010.
00:04:05 – We have a new contest this week and are giving away five copies of Malice by Chris Wooding.
00:06:07 – Mailbag: Grant asks us for our ultimate Sci-Fi Mashup.
TV Talk:
00:12:11 – Fringe: Snakehead (spoilers!)
00:16:11 – Dexter: Lost Boys (spoilers!)
00:24:30 – Dollhouse: The Public Eye and The Left Hand (spoilers!)
Game Talk:
00:36:58 – Celeste is hooked on Dragon Age: Origins, and I've been racking up achievements in Borderlands: The Zombie Island of Dr. Ned.
00:42:43 – Episode Closing
You can send us e-mail at podcast@fandomania.com.