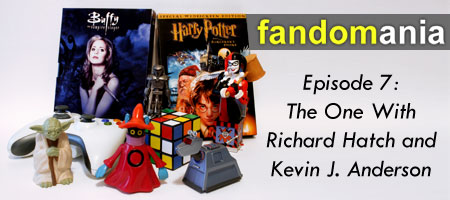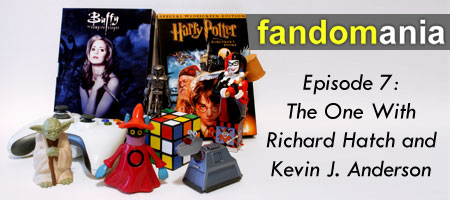 [audio:http://media.libsyn.com/media/fandomania/Episode_0007_-_The_One_With_Richard_Hatch_and_Kevin_J_Anderson.mp3]
In this week's extra-long episode:
Celeste and I chat about Stargate SG-1, Terminator, and Ghost Hunters.
We agree that Fringe is fantastic and that more people should watch it.
We disagree about the merits of True Blood.
I invite you to enter our contest to win the Eureka soundtrack CD.
Richard Hatch from Battlestar Galactica talks with us about his show, as well as where he sees TV and networks heading in the future.
Celeste talks about having finished reading Watchmen for the first time.
We discuss Marvel's Secret Invasion comics and the new adaptation of Stephen King's The Stand.
Celeste and I praise the Buffy comic and rant about the Angel one.
Novelist Kevin J. Anderson talks with Kelly about his career, books, and fandom.
I briefly talk about Burn After Reading.
We close the show with some video game talk, covering Rock Band 1 and 2, The Force Unleashed, Viva Pinata 2, and Mercenaries 2.
The intro music for this episode comes from The Crowd, via the Podsafe Music Network.
You can send mail to us at podcast@fandomania.com.