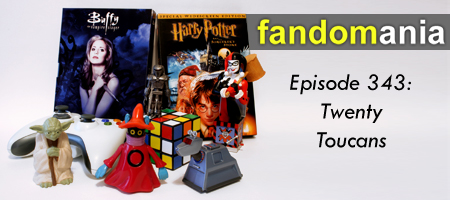 [audio:http://traffic.libsyn.com/fandomania/Episode_0343_-_Twenty_Toucans.mp3]
We talk about fandom backlash this week, both in the Game of Thrones fandom and against Peter Molyneux. We also discuss the latest Wheel of Time news, The Escapists, Dying Light, Dead or Alive 5 Final Round, and more!
00:00:29 – Episode Opening
00:00:48 – We talk about Game of Thrones fan backlash.
00:05:42 – A bizarre TV pilot for The Wheel of Time has aired.
00:15:02 – We discuss the trouble with Peter Molyneux and Godus.
00:23:24 – The Order: 1886 is having some length troubles.
00:29:37 – Jason talks about playing The Escapists.
00:32:19 – We talk a bit more about Dying Light.
00:35:19 – Dead or Alive 5: Final Around has arrived.
00:40:28 – Episode Closing
You can send email to us at podcast@fandomania.com, and you can subscribe to the Fandomania Podcast at iTunes.