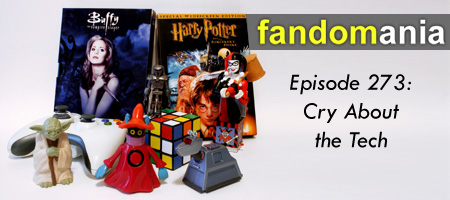 On this week's episode we answer our mailbag and then talk about some gaming news, the newest episodes of Agents of S.H.I.E.L.D. and Arrow, and the series premiere of CW's Reign.
[audio:http://traffic.libsyn.com/fandomania/Episode_0273_-_Cry_About_the_Tech.mp3]
00:00:29 – Episode Opening
00:00:33 – We make a correction from last week.
00:01:50 – Mailbag about TV!
00:05:51 – Ubisoft has delayed Watch Dogs's release.
00:09:28 – We talk a little about the upcoming Xbox One game Ryse.
00:16:34 – We watched what probably will be our last episode of Agents of S.H.I.E.L.D.
00:30:37 – We're still enjoying Arrow.
00:32:05 – We tried out the first episode of CW's Reign.
00:41:09 – Episode Closing