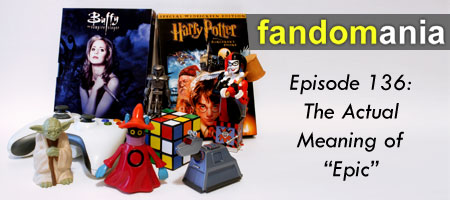 [audio:http://traffic.libsyn.com/fandomania/Episode_0136_-_The_Actual_Meaning_of_Epic.mp3]
00:00:16 – Episode Opening
00:00:20 – We talk about the high school play we were going to this weekend.
00:02:26 – Obligatory Charlie Sheen / winning / tiger blood talk.
TV Talk:
00:06:10 – The Cape has been canceled.
00:08:17 – We talk about the latest casting news for the Wonder Woman TV series.
00:10:02 – Ron Moore's 17th Precinct has added some familiar cast members.
00:14:16 – We talk about the upcoming adaptation of Brian Michael Bendis's Powers comic series.
Movie Talk:
00:16:04 – Twitter has delivered some news about the sequel to the GI Joe movie.
00:18:25 – Lucasfilm has announced the release date for The Phantom Menace in 3D.
Game Talk:
00:23:15 – We discuss some of the many awesome video games scheduled for release this year.
00:25:51 – What we played this week: Bulletstorm, Prince of Persia: The Forgotten Sands, Limbo, Braid, Dragon Age: Origins
00:31:09 – Episode Closing