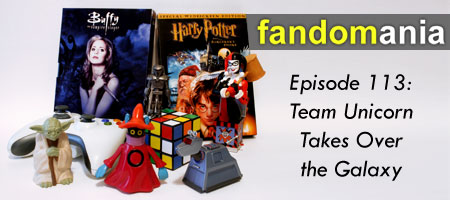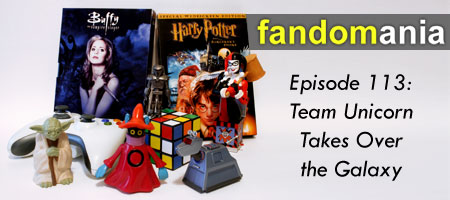 [audio:http://traffic.libsyn.com/fandomania/Episode_0113_-_Team_Unicorn_Takes_Over_the_Galaxy.mp3]
On this week's episode:
00:00:17 – Episode Opening
00:00:32 – This week we're giving away Night of the Living Trekkies, a novel by Kevin David Anderson and Sam Stall.
00:01:57 – Congrats to Ginny and Rob, who are getting married in Las Vegas next weekend!
00:02:38 – Ginny talks with the ladies of Team Unicorn (Clare Grant, Michele Boyd, Milynn Sarley, and Rileah Vanderbilt) about being geek and gamer girls and taking over the galaxy.
TV Talk:
00:19:20 – Boardwalk Empire: "Pilot" (spoilers!)
00:24:39 – Chuck: "Chuck Versus the Anniversary" (spoilers!)
00:34:33 – Warehouse 13: "Reset" (spoilers!)
00:39:31 – The Event: "I Haven't Told You Everything" (spoilers!)
00:43:47 – Fringe: "Olivia" (spoilers!)
00:52:07 – Nikita: "Kill Jill" (spoilers!)
Movie Talk:
01:01:00 – The Social Network
Game Talk:
01:02:50 – BioShock 2: Minerva's Den
01:08:43 – Episode Closing