I recently sat down with legendary comics writer Chris Claremont at MegaCon in Orlando, FL, to talk about his previous work, as well as his upcoming return to the Marvel Universe with X-Men Forever.
Jason: We're here at MegaCon with Chris Claremont. It's a pleasure to be interviewing you, and thank you for taking the time out. I've seen you've been super busy signing autographs and meeting fans all day. How's the convention going so far?
Chris Claremont: So far it's been quite an experience. On one level you think, "Wow, that's a lot of people on line. Augh, that's hard." But then you think, "That's a lot of people on line. If they're willing to stand here, then I'm willing to sign the books." And it's better than sitting here wondering where everybody's gone.
Jason: You have a new X-Men project coming up. I was wondering if you'd like to talk about that a little bit. It's called X-Men Forever?
Chris Claremont: Yes, X-Men Forever.
Jason: Can you give me the top-down of what it's going to be about?
Chris Claremont: 22 pages.
Jason: About 22 pages?
Chris Claremont: Every two weeks.
Jason: That's right, I heard it's bi-weekly. That's gotta be keeping you busy.
Chris Claremont: Hopefully, and hopefully for a good long time. In essence, it picks up where I left off with X-Men #3, as if ideally I hadn't quit or severed my ties with Marvel. We're just going on with the story. The advantage now, as opposed to then, is that we have a certain measure of freedom with what characters we can use, so Nightcrawler and Shadowcat are rejoining the team. And since we're not part of the primary Marvel Universe, we have total freedom in terms of what happens to characters. So in this series, death is a very real and prevalent part of their reality, as we'll demonstrate right off the bat with a tragic incident happening within the first adventure.
Jason: So you're basically creating a divergent timeline?
Chris Claremont: I'm creating a series where it is in its own level of continuity, faithful to what was established and what existed back in the day. This is the same reality as the Marvel Universe, except that here characters can die. In that aspect, we're playing by real world rules. As far as my approach to it, to me this is the legitimate X-Men, and that governs everything I do with the characters. This is the real Kitty, the real Nightcrawler, the real Cyclops, the real Xavier, but the series has the freedom to deal with the realities of their lives and their world that is perhaps not available to Uncanny or other books, simply because they're required by Marvel to keep their characters alive for use in other media. In that respect, we can do all sorts of fun things. And the advantage is, also, since we're going back to that period, Gambit had just been created and just made his first entrance, Rogue hadn't been around that long, and there's a tremendous opportunity to play, to take them in directions that perhaps might be different from what readers are used to seeing in the traditional mainstream books.
Jason: It sounds like an exciting project, and I'm definitely looking forward to it.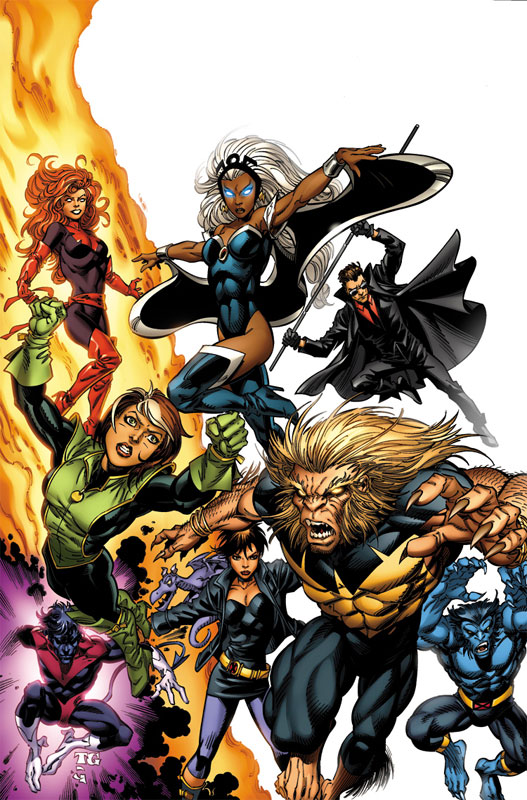 Chris Claremont: The nice thing is, anything goes. I mean, you can look at Rogue and Gambit and think, "Well, are they going to get together or not? And if not, where are they gonna go? And if they do get together, is it going to be an automatic thing or an easy thing or are there going to be challenges? What's going to happen with Storm? What's going to happen with Jean and Scott? Are they a done deal or not?" Since the splash page of the very first issue is Jean passionately kissing Logan on the beach, you have to sit back and think, "Hmm. Where's that relationship gonna go, and how is that going to affect Scott?" And right off the bat we're going to discover things about the world and about the reality of mutant lives in that world that are logical outcomes of things that I set in motion back in the day but are fundamentally different from what has evolved since. This is my vision, and it's very primal, and it's very direct, and hopefully very dramatic.
Jason: It's gotta be exciting, coming back to that after so much time has passed and having the opportunity to tell it the way you wanted to tell it. It has to be a good feeling.
Chris Claremont: I hope so. It'll be a better feeling when I can look back after five years and see the book as a successful, growing title.
Jason: You have created or had a hand in creating so many of the characters that are instrumental to the X-Men mythos and to the Marvel Universe. The first thing I wanted to ask about that is, is there one particular character that is closer to your heart than others or one favorite in particular that you have?
Chris Claremont: I suspect you could name any of the X characters and I could, with fairly equal honesty, say yes. I wrote them for better than sixteen consecutive years, easily better than twenty years overall and possibly closer to twenty-five. It's hard to choose favorites in that kind of crowd.
Jason: After you've created characters and they've lived in the Marvel Universe and have gone on their own adventures, have you been… I'm sure you've been following along with what's happened, for example, what Joss Whedon did with Kitty Pryde?
Chris Claremont: Every writer, every artist, every editor has their own vision of where the series should go. Len Wein's conception of Logan was fundamentally different than mine and Dave's. You take it for what it's worth. You enjoy what you enjoy, you don't enjoy what you don't enjoy, but you view it all from the faith that the writers and the artists are giving it their best. At the very least, you appreciate it for that. It's not an either-or situation. They are governed by a different vision and a different set of rules and structure than I am. So things that appeal to me might not appeal to them, and vice versa. It might be better. I enjoyed Joss's run on the book, and I enjoyed Grant's run on the book. It's not what I would have written, but that's good.
Jason: I thought it was particularly interesting that Joss was the one who effectively killed Kitty, because he has, numerous times, said that Kitty was an inspiration for Buffy the Vampire Slayer. The character of Buffy was inspired a great deal by Kitty.
Chris Claremont: And how many times did he kill Buffy?
Jason: At least two times, maybe three.
Chris Claremont: And he brought her back each time. So I would suspect there's more than one loophole that the Uncanny department will find a way to wriggle their way out of. On the other hand, I don't have that problem in X-Men Forever. She's not dead.
Jason: But if someone does die [in X-Men Forever], then they are dead, and you don't try to find loopholes.
Chris Claremont: Trust me, there's a lot worse that can happen before you get to that stage, as Kitty's about to discover.
Jason: That sounds dire.
Chris Claremont: It's appropriately dire.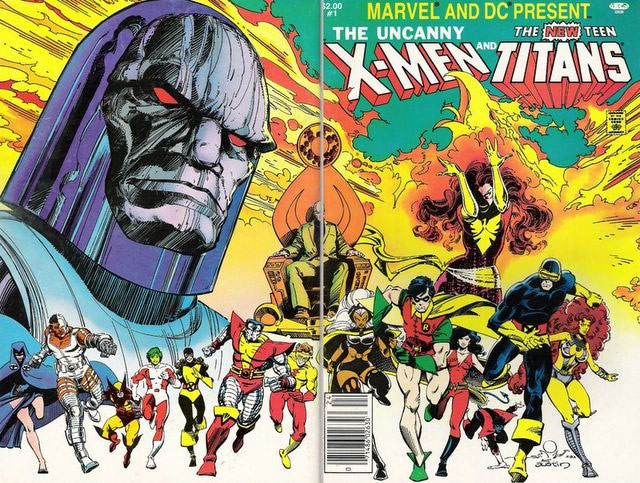 Jason: We have a reader who is a fan of the Uncanny X-Men and Teen Titans crossover that you did. He was wondering what it was like to be able to write that and whether you think that kind of crossover comic would be viable in the market today.
Chris Claremont: Well, at least in terms of the X / Titans, we had a unique situation. The series alternated, and DC edited one, Marvel edited one, DC, then Marvel. So that was a Marvel edited book, and Louise Simonson was the editor and my editor on X-Men, and we just got one of the best artists in the business to do the pencils, Walt, who just happened to be Weezie's husband. So I was sitting there, talking over pitches with Weezie, and I had this vision in my head. You see this celestial scape, and out of it comes this burning circle of fire that coalesces into the figure of Dark Phoenix, and you hear, "Who summons Dark Phoenix?" And you see this great black hand come in from off-panel, and this voice says, "I, Darkseid." And suddenly there's a beat, and Walt sticks his head in the door and says, "Somebody mention Darkseid? Because if you're serious, I'm there." And I looked at Weezie, and Weezie looked at me, and we said, "Muahaha." And that was how it got started. We basically sat down for two marathon plotting sessions, twelve or eighteen hours at a shot, and put the whole thing together. That was the kind of creative structure that you pray for. An editor you respect who is also the best in the business, an artist you respect who is also one of the best in the business, and a writer trying to prove he's in their league. And a whole host of characters we enjoyed playing with. It's been a good long time since then, and you can still look through that issue with Terry's inking as well and Glynis's colors, it's fresh, it's eloquent, it holds up, it's as good as it ever was, and it's better than a lot of stuff that's around today. So I think that was one of those collaborations where all the pieces just were, in every sense of the words, a dream team. I loved it. I loved the whole thing, from start to finish.
Jason: Do you think that sort of thing could be done today as a viable book in today's comic market, with the way continuity is and the way things are handled differently now?
Chris Claremont: It's simply a matter of the right editor, the right characters, the right writer, the right penciler, and the right inker. The cliché answer is that anything is possible, but I don't see why it shouldn't be possible. The difference was, in our case, we put the pieces together, and we came up with magic. That, you never know. That was just a wonderful year, with me hooking up with Frank and getting him to do the four-issue Wolverine. Again, it's like a gift from God, simply because it was the right penciler, the right writer, the right character, the right circumstance. We clicked. That doesn't happen a lot, ever, with any series. You can put the pieces together and think they'll work, and it doesn't quite. Or you can put pieces together that you never imagined, and you've got magic. If Len had even the slightest notion of what the X-Men would become, he wouldn't have given it up, and there's no reason why he should have. If I had known what was coming, I don't know if I would have written it as well. You don't know what you're getting into. You take the first leap of faith, and you keep your fingers crossed all the way. In this case, we got very, very, very, very lucky.
Jason: It's great that you're able to come back into X-Men now, and it seems like you have all the pieces in place for this as well.
Chris Claremont: Well, no one starts a series saying, "I'm going to fail in five issues spectacularly." You know, I don't think Joss started Serenity [and Firefly] with the idea that Fox was not going to produce it as he saw fit or release it as he saw fit. There are things you can't control. Everyone starts something, hoping for the best. Whether you get that wish or not is in the hands of the gods. In the final analysis, what you have to do is your best. Do your best, and at least then you can be proud of your work and hope that's enough. Whether that's the way it turns out is, as they say, in the hands of the gods.
This interview originally ran in Episode 33 of the Fandomania podcast.