INMATE #01997: Needles Kane (a.k.a. Sweet Tooth) – Twisted Metal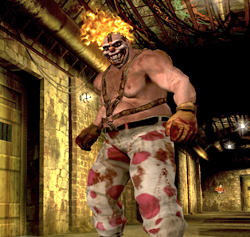 Age: Unknown, Estimated between 30 to 40
Weight: Killed the medics before weight could be established
Height: 6 feet
Birthplace: Unknown
Family: Charlie Kane (a.k.a. Yellow Jacket)
Known Acquaintances: Calypso (Real name unknown)
PSYCHOLOGICAL PROFILE:
Unfortunately we have never been able to obtain a satisfactory glance into the psyche of Needles Kane (herein referred to as "Sweet Tooth"). Attempts have indeed been made to analyze him, but results proved fatal as he killed our first analyst and critically injured the next one. The third was driven mad by his inability to come to a satisfying analysis and subsequently took his own life.
PATIENT HISTORY:
The details of his life are indeed sketchy. All that is known is that he is the estranged son of Cab Driver Charles Kane (aka Yellow Jacket). The details of their estrangement is also unknown. We were unable to obtain any information about Sweet Tooth from his father since Charles Kane was brutally murdered by a passenger. Kane's body has been reported missing along with his cab and his younger son.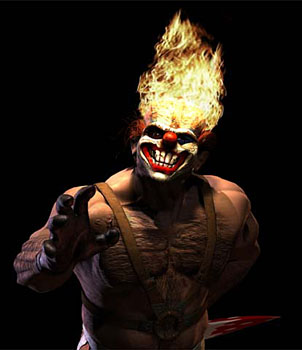 Speculation towards Sweet Tooth's origins are (for the most part) simply that, speculation. One theory states that Sweet Tooth has always been destined to be a killer. His first murder would indeed have been impressive to any autopsy surgeon. Murder came as natural to Sweet Tooth as eating is to all of us. Sweet Tooth's trail of carnage was impossible to navigate, as he killed without motive or method. What was clear, however, was that this was a way of life for him. Early appearances had Sweet Tooth in a stolen Ice Cream Truck driving around suburban neighborhoods. Shortly afterward, people disappeared. Sometimes it was a child, sometimes it was an adult. In the beginning, the victims were on a weekly basis, but as the years went by, the numbers escalated to horrifying levels. Recent estimates had his calculated death toll in the hundreds, maybe thousands. Sweet Tooth's inevitable capture was simply a matter of bad luck on his part. Details are confidential, but according to news reports it took an entire police SWAT team to bring him down.
The events after his capture are the the only ones that have been widely publicized. The death sentence was inevitable for Sweet Tooth, and the authorities wasted no time in setting a date. Sweet Tooth was strapped in the electric chair ready to receive his last rites. Unfortunately, no legitimate priest was willing to offer Sweet Tooth the chance to make a last act of contrition. Instead, the police brought in a preacher named Jebediah, an inmate in Blackfield Asylum who was incarcerated after mutilating almost a dozen innocent people in at a church during a baptism. He claimed he was possessed by a demon. Instead of the usual religious jargon, Jebediah recited a passage as Sweet Tooth's execution was underway. Suddenly Sweet Tooth's head caught on fire. At first police believed it to be a malfunction, but then Sweet Tooth broke free. Officers
on site subdued Sweet Tooth after sustaining three fatalities. The fire on Sweet Tooth's head was indeed a curse — not fatal, but Sweet Tooth was obviously feeling intense pain. Sweet Tooth was then confined to Blackfield Asylum for observation.
This has been regarded as a terrible mistake since, shortly afterwards, Sweet Tooth, among other dangerous inmates, were broken out of the asylum. Details of the events to follow vary.
Word on the street states that there is an illegal contest run by a man known only as Calypso. In this contest, randomly chosen contestants, with a heavily armed vehicle of their choosing, compete in a highly destructive bloodsport where the last one standing is the winner. It is believed that Sweet Tooth was chosen to compete in said contest. On a side note, it was discovered that Sweet Tooth's father and little brother also competed, along with the preacher who attended Sweet Tooth's execution. However, it is unknown how this was possible. Gossip surrounding the contest states that the prize of this contest is a single wish, anything the victor desires regardless of price and even reality.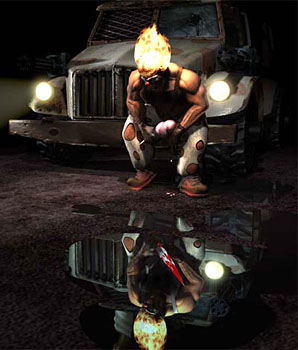 CURRENT WHEREABOUTS:
What happened after the contest is unknown. It is uncertain as to whether or not Sweet Tooth won the contest, One of the following scenarios is assumed to have happened:
Sweet Tooth won, killed Calypso, and is currently still at large.
Sweet Tooth was killed in the contest by his father and little brother.
Sweet Tooth was killed, execution style, by a bereaved spouse of one of Sweet Tooth's victims who was driven mad by his wife's murder.
Sweet Tooth survived the contest, chose to remain by Calypso's side, and continues to keep a low profile (surfacing only every year the contest takes place).
WARNING: ARMED OR UNARMED, THIS MAN IS EXTREMELY DANGEROUS, DO NOT APPROACH. IF HE IS SIGHTED PLEASE CONTACT THE POLICE IMMEDIATELY.