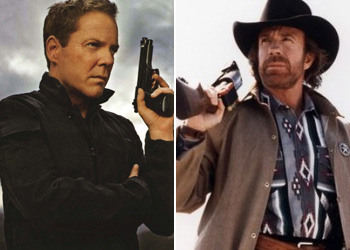 This matchup is a bit more difficult than usual because the characters appear in shows that are so different. 24 is a nail-biting thriller where every minute could be Jack's last, while Walker, Texas Ranger is a feel-good modern day version of the "good guys always win" Western, except with extra camp thrown in for good measure.
The other thing is that the actor that plays one character could clearly beat the crap out of the other. When Chuck Norris is so tough he doesn't do pushups — he pushes the earth down — it's hard to separate his badness from the character he plays. After all, he's so fast he can run around the Earth and punch himself in the back of the head. You can't beat that.
Alas, this is NOT a death match between Chuck Norris (who's so tough he can slam a revolving door) and Kiefer Sutherland (who was really good in Lost Boys). This is between the men they portray. So let's get to it: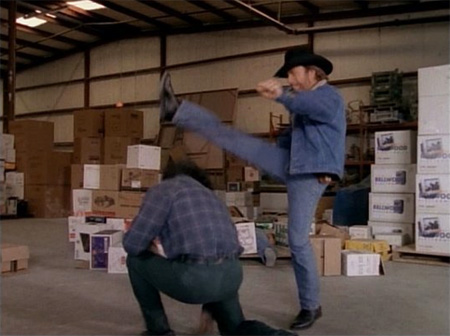 Both Bauer and Walker have hand-to-hand combat training. Both have had military special-forces training. Walker, however, is a martial arts expert. Plus, Walker has a signature move: the reverse roundhouse kick to the face.
Bauer, on the other hand, does not have a signature move (unless you count killing). What he does have is godlike stamina, staying awake 24 hours or more and still able, for example, to survive a nuclear explosion.
Walker, of course, is so tough he doesn't sleep… he waits (and when he does sleep, he sleeps with a pillow under his gun). And all that time walking around in tight jeans has upped his tolerance for pain.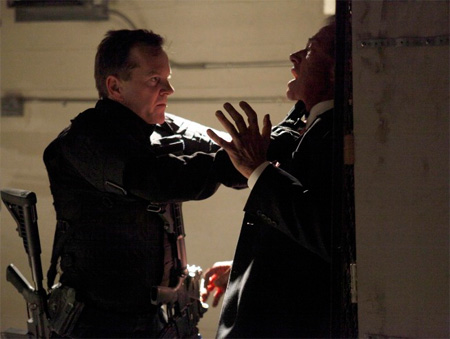 So, it's a tough call. But we have to make a decision. If this were a martial arts match, we'd have to go with Walker. Bauer would know about that reverse roundhouse kick, but Walker has it down so good, Bauer would eventually fall prey.
But this isn't the UFC. This is a Fandom Deathmatch. Bauer kills more men before breakfast than Walker did his entire career. Walker is going to have to up his body count if he wants to survive a death match with Bauer.
Jack Bauer wins, after a full day of cat and mouse, with a kill-shot between the eyes.