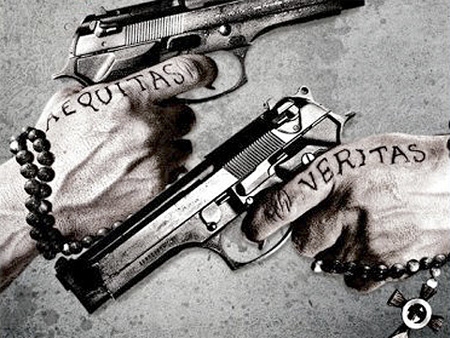 Boondock Saints is a movie that has developed such a cult following that even ten years after its release it can still sell out theaters across the country when it has an anniversary showing. I should know, I was in one of those seats. And the initial film's success is solely because of the fan movement that brought it from obscurity to cult status because of movie rentals. That fan determination is needed to get the movie's soundtrack as well, since it doesn't actually exist. But where there's a will there's a way, and fans have tracked down each song that the movie featured in order to have Boondock Saints with them in audio wherever they go.
Most of the tracks are instrumental, which worked in the film since the music didn't seek to overwhelm the action, but instead enhanced it. "The Blood of Cuchulainn" uses the theme very well because it was the backdrop of the opening in the film and set the theme of the entire universe that we were set to embark into. "Stained Glass" as well helped bring forth the theme for fans. This was a mission from God and it was going to be bloody. The lyrical track of "Holy Fool" puts you right back in the mindset of the MacManus brothers, with the push of half-righteousness and half-weighted pressure. If you're a fan of the movie, you'll seek out the music and it will be worth it.

Boondock Saints (music used in film)
"The Blood of Cuchulainn" (Composed by Jeff and Mychael Danna)
"Tell Me" (Composed by Robert J. Walsh)
"White Rapids" (Composed by Emery / Lyddon)
"Miss Mountain" (Composed by Greenburg/Harrell)
"Bach Concerto in E Major" (Public Domain)
"La Boheme" (Public Domain)
"Terminal Velocity" (Composed by Gavin Griffiths)
"War Not War" (Composed by Ian Anderson)
"Crystal Dancehall" (Composed by Glynn / Smith)
"Club Newburgh" (Composed by Stephen / Darren Loveday)
"Ahmedabab Theme" (Composed by Arel / Petit)
"Stained Glass" (Composed by James Clarke)
"Danny Boy" (Composed by Ronin Hardiman)
"Rock Hard" (Composed by Stephen / Darren Loveday)
"Rock n Roll Wardrobe" (Composed by Stephen / Darren Loveday)
"Fallen Angel" (Composed by Tony Hallinan)
"Holy Fool" (Performed by The Boondock Saints)
"Pipes" (Performed by The Boondock Saints)
Ten years later, the much-anticipated sequel to the movie came out (Boondock Saints II: All Saints Day). Fans finally got an official soundtrack to go with it, this time with many more lyrical songs compared to the instrumental tracks. Old favorites "Holy Fool" and "Blood Of Cu Chulainn," updated for 2010, are included. We liked the tracks before and we still love them now.
The "Ireland Intro" introduces you and catches you up to where the brothers are and where they're going from here. There was peace for a while, but that's all over now. And "Line of Blood" pushes the beat hard and gets you riled up for the justice that's about to rain down upon them all. The same is true of Ty Stone's other track "Real Thang." He gets the tone of this movie and that's the most important aspect for me. "Skyscraper Assault" and "The Last Gun Battle" retain the feeling of religious incantations that has been so important to these characters over the years. And if I had to choose one track above all others from this CD, I'd choose "The Saints Are Coming" without hesitation. It's a war cry and a warning. They've been gone, but they're back, so watch out.

Boondock Saints II: All Saints Day (official soundtrack)
"Ireland Intro" (Jeff Danna)
"Line of Blood"(Ty Stone)
"B.O.S.M" (The Dirges)
"Plastic Jesus" (Taylor Duffy)
"Eclipse" (Radiant-X)
"Balls Deep" (Sean C)
"Better Days" (The Dirges)
"Requiem Massive" (Radiant-X)
"Real Thang" (Ty Stone)
"Holiday" (The Dirges)
"The Wreckoning" (Radiant-X)
"Holy Fool" (The Boondock Saints)
"The Saints Are Coming" (The Dirges)
"Saints From The Streets" (Jeff Danna)
"Crew Cut vs. Poppa M" (Jeff Danna)
"Young Noah" (Jeff Danna)
"Ireland" (Jeff Danna)
"Noah's Vendetta" (Jeff Danna)
"Fake-bake Shake" (Jeff Danna)
"Skyscraper Assault" (Jeff Danna)
"The Last Gun Battle" (Jeff Danna)
"Get Them Out" (Jeff Danna)
"Blood Of Cu Chulainn 2010" (Jeff Danna & Mychael Danna)
And since I can't leave you without the most famous scene in the entire movie, say it with me: "For a few seconds, this place was Armageddon. There was a firefight!" (Warning: NSFW)