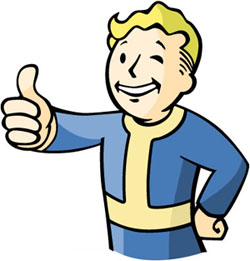 Gamestop has revealed a Collector's Edition of the hot upcoming RPG Fallout 3 in a recent mailing. According to Gamestop, the CE will be $20 more than the standard edition of the game and will include:
Vault Boy Bobblehead
Dwight Schrutes of the world rejoice! You now can adorn your desk with the wobbly goodness of Fallout's mascot.
The Art of Fallout 3
This will be a 100 page hardcover featuring concept art and commentary.
The Making of Fallout 3
An exclusive behind the scenes DVD from Bethesda.
Vault-Tech Lunchbox
The Collector's Edition will come packaged in a custom metal lunchbox.
The regular edition of Fallout 3 is available for preorder from Amazon with free shipping for the PC, XBox 360, and Playstation 3. They aren't taking preorders for the collector's edition just yet, but you can sign up to be notified when they start taking them for each platform: PC, XBox 360, and Playstation 3.
Source: IGN