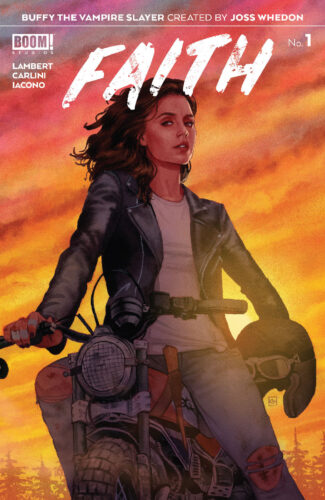 We are treated to the backstory of Faith and learn how her life has been filled with complications, even before the vampires became involved. A nice introduction to the Slayer we have come to know and love, in all timelines.
Note: This recap may contain spoilers!
The kick-off of the series was filled with confusion for me, but as the pages went on the confusion cleared to reveal some very hard truths about Faith. She's had a difficult life, and the added pressure of being a chosen one to save the world just makes it all the more complicated.
When we meet her, Faith is alone in a theater watching a movie marathon. This seems to be something she does quite often, enjoying the time to lose herself in the world of fantasy. However, there's a darkness that lurks there as well. And that's meant quite literally as the darkness resolves into three other-worldly creatures. The outcome of that confrontation, if there was one, is immediately unclear as the next scene we get is of Faith waking up suddenly and rushing out in an attempt to find her coworker.

It turns out that Faith works in the movie theater and she's losing time. Talking to her coworker on the phone, she confirms she doesn't remember anything from the night before and has no recollection of bailing on her work, as her coworker says she did. It's now 1AM, with the rest of the crew gone for the night and Faith left alone to try to figure out how she ended up there and why she keeps spacing out.
The movies have definitely been a comfort to her throughout her life. It's helped her deal with things as she grows up, surviving a rough and troubled childhood. The blackouts are not a recent occurrence. They've plagued her since she was little. However, there may be an explanation for that and it has to do with the Watchers.

Faith has been on their radar for a while. They've watched her grow up and have met her quite frequently as she battles creatures not of this world. And each time this happens, they've used a spell to wipe her memory and put her right back in the spot of confusion as she wakes up not knowing where she is or how she got there. But during those times of lucidity, she is piecing together what they've told her and the destiny she has before her.
One such incident is when she runs away from a supernatural creature, though her mind makes it into just a very scary guy. Wesley saves her from being attacked by staking the monster and retreating to his office to continue his silent observation. Both their destinies, it seems, will soon come into play. Wesley's boss tells him it's time that he and Faith join the other Slayers in Sunnydale. And while she wants him to maintain the status quo of being a Watcher, I feel like he's going to have to bend a little to win this fight. Faith is along for the ride, as she gets notification her ticket's booked, even though she doesn't remember making a reservation. But they are both being called to Sunnydale and that's where it will all come together.
Rating: 4 / 5 Stars