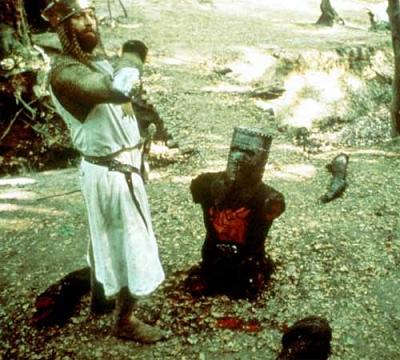 By the time Monty Python's Flying Circus had entered its fourth series, it did so without John Cleese. Cleese opted to step out of the show after the third series believing that they milked the formula for all its worth and even worried that they might be repeating themselves. Soon, Monty Python decided to take their brand of comedy to the silver screen. Through these films the entire world would know the name Monty Python. In the spirit of my month-long tribute to the fortieth anniversary of Monty Python, I have unearthed all of the great Monty Python films from the Comedy Gold Mines.
And Now For Something Completely Different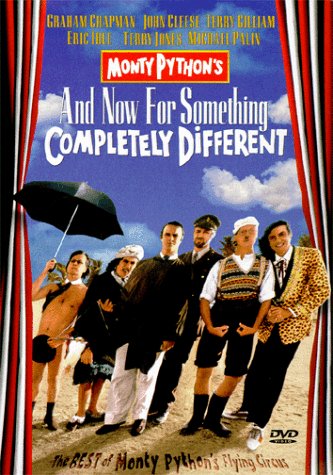 Ironically, if you already were a fan of Monty Python's Flying Circus then the title of this film was a total contradiction (no it isn't, yes it is). As a matter of fact, ANFSCD is very simply Monty Python's Flying Circus: The Movie. Which may seem like a gyp, but when you deliberate on it further you begin to realize that it's totally far from a gyp. I say this primarily because when we see the great sketches from Python's first season fully realized with a more substantial budget, and more thorough direction, the sketches take a completely different shape. The sketches are performed with more gusto, with a little touch of subtlety, and many of the kinks that may have dragged the sketch down in its television incarnation are edited out and refined to make the jokes sharper. You even get to see some of Terry Gilliam's animation become crisper and more polished. So the redux of these sketches in the cinema format proved that you actually could improve on perfection. The main intent of this film was to broaden Python's popularity overseas and, to that end, it's mission accomplished.
Monty Python and the Holy Grail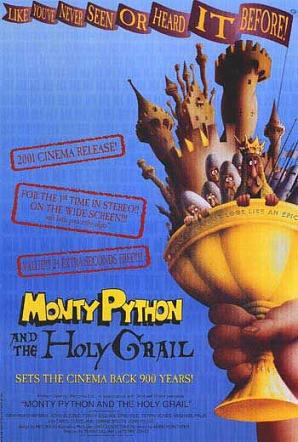 For Monty Python's second silver screen adventure, they abandoned the sketch format completely in order to tell a complete story using their unique brand of comedy. Though it can be debated whether or not Holy Grail is Monty Python's best film, it can't be denied that it is their most successful. Ask at least 90% of Monty Python fans what their first encounter with the group was, and their answer may very well be this film. It's practically a guarantee that if you want to make someone a fan of Monty Python, you show them this film. Makes sense when you consider that it has the most frequently quoted lines amongst the fans… not to mention you can't go through one convention without seeing at least one T-shirt with an image from the film. Monty Python really created comedy gold when they were forced to adjust to the film's meager budget. Turns out what was done merely to save money resulted in some of the funniest moments. Of course I refer to the fact that the group couldn't afford horses, and thus had to use coconuts. Then there was the virtue that the film's epic-style, castle storming ending is totally curtailed by the police, thus ending the film in a totally Pythonesque fashion. It shows off how comedy really can be totally flexible based on the resources of those writing the film.
The Life of Brian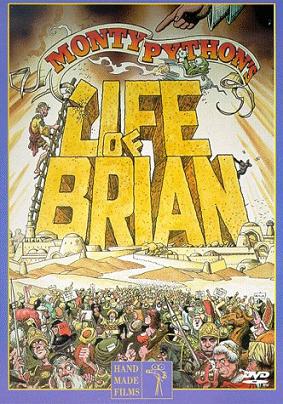 While they were on the promo tour for Holy Grail, reporters would not stop asking Monty Python what their next project would be. Out of frustration, Eric Idle blurted out Jesus Christ: Lust for Glory. The press shut right up, and it gave the group another brilliant idea that very rapidly became one of their biggest controversies — one which befuddled the six comedians, largely due to the fact that they were very conservative towards the direct references to JC. They realized that the philosophy of Jesus Christ was too sacred, and indeed should be respected. So then came the idea of a hapless putz whose life parallels Jesus's, and who finds himself unintentionally being worshipped as a messiah. The media storm this film started was epic. Many prominent religious figures spoke out against the film, many without even seeing it. They all believed that Monty Python was having a go at our saviour, when in reality, they were actually lampooning the overzealousness of worship and how people are so obsessed with answers that they will cling to anyone who may show a single sign of wisdom. The madness caused by Life of Brian was enough to make the film a box office smash. Many people eager to see the film arranged bus parties to go to towns that were allowed to show the film. All of this proves that controversy is a powerful selling tool.
The Meaning of Life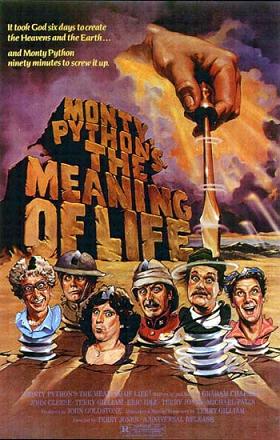 For their final film, Monty Python returned to sketch format in order to illustrate in macabre detail the seven stages of life, all of which would lead us to the meaning of life. Though some of members, in retrospect, express their dissatisfaction of the film, the fans on the other hand openly embraced the film for its incredible variety. Indeed, the film delivers on a slew of fantastic moments of Pythonesque delight. After careful analysis, it can be seen that the film indeed had the best of both worlds. On one side, it has a central theme that gives the seeming chaotic humor its focus — tradition in keeping with the movies, and because of that central theme it makes the film far more cohesive. It is also noteworthy that after spending all his time simply animating a series of bizarre cartoons to link the skits, Terry Gilliam finally got to show a little taste of what we would inevitably see from him as a film director with his short film The Crimson Permanent Assurance. It is safe to say that Monty Python went out with a bang, because Meaning of Life became a massive sensation at the Cannes Film Festival, where it won top honors. Though Meaning of Life may not be as widely regarded as its predecessors, it's still Monty Python at its finest.
Live at the Hollywood Bowl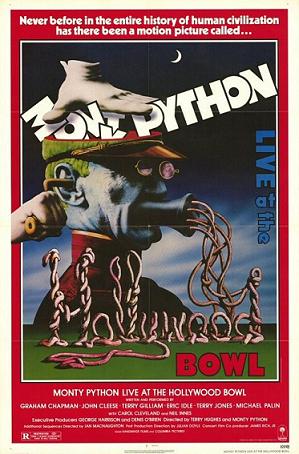 Between films, the group decided to go on the road, and one of their most popular performances was their Los Angeles engagement at the Hollywood Bowl. The highlights of the performance are preserved for all time with this film. Though on the surface it seems to be the boys performing many of their classic skits from Flying Circus, what makes these special is the fact that, with a live audience, they are given room to let the skits explode with improvisational delights. Many of the funniest moments come when the cast interacts with the audience. Also, because the sketches aren't being performed on the television, Monty Python are able to take them to their fully ribald potential by inserting additional bits of raunchy humor. It may be cliché to say that watching this filmed performance is like actually being there, but it really does put you down in the thick with the comedy legends.
NEXT MONTH: We seek out comedy gold of the ink and paint variety as we look at some hilarious animated films.