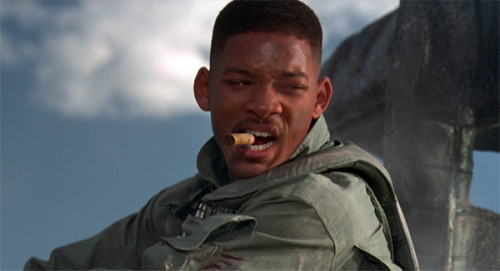 Roland Emmerich is rolling ahead with his plans to make a sequel to Independence Day, the now-classic sci-fi / action flick he co-wrote and directed in 1996. According to a new interview Emmerich did with the NY Daily News, we will be seeing some familiar faces in Independence Day 2, but Will Smith's Captain Steven Hiller won't be among them. The reason? Smith costs too darn much these days and is too big of a name. That last bit might be debatable, given the recently underwhelming performance of After Earth, the M. Night Shyamalan bomb that stars Will Smith with his son Jaden. There's no doubt he'd raise the film's budget significantly, though. Here's what Emmerich said:
"Will Smith can not come back because he's too expensive, but he'd also be too much of a marquee name… It would be too much… We have like maybe half of the people that you know would know from the first film (in the script) and the other half people who are new."
Independence Day 2 is slated for release on July 3, 2015.