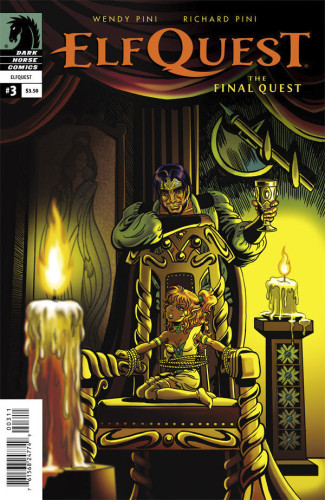 We open back at the magic temple-like palace spaceship alluded to in issue 1. Strongbow finds Eyrn and tries to convince her to spend less time developing her ancient elfin magical abilities and more time with the family. Leetah and Cutter, meanwhile, are contemplating whether to use the temple's magical abilities to teleport to Ember and rescue her.
Note: This recap may contain spoilers!
Here comes inadequately explored motivation 2: Cutter decides not to rally his magic elf family and rescue Ember. Instead, he references some vague idea that if Ember wants to be rescued, she'll ask for their help. He wants to wait and see what happens. So, we'll probably get some more drama in that category a few issues down the road related to why Ember didn't ask for help. Or maybe she'll ask her dad something like "I almost died back there. You couldn't throw me a bone? Maybe send me some magic swords? Nothing?"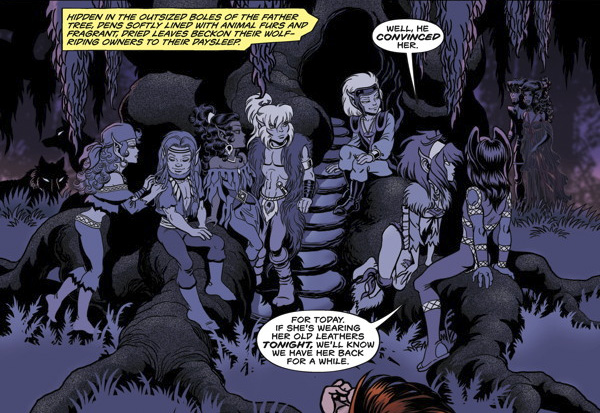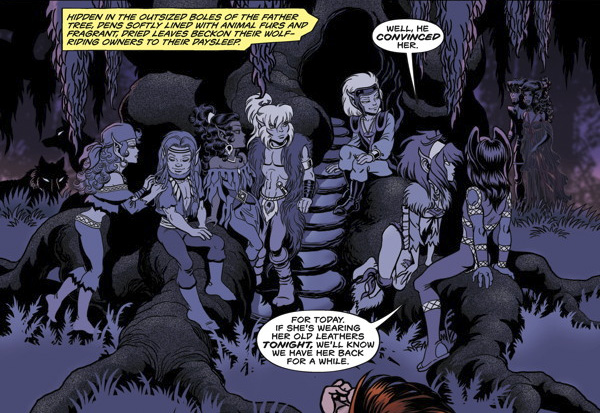 Anyway, let's reestablish our suspension of disbelief and get back to the story. For now, Ember is being held prisoner by an Angrif who is threatening to torture her to death unless she calls Mender back to heal him. Before he can get to the torturing, though, he realizes Ember is already suffering. He doesn't figure out the exact reason for her suffering (it's the unfinished recognition she has with Tier). But he does figure out she gets her strength from "those unnatural wolves and their even less natural riders!" Before Angrif can really get to the real good torturing he wants to do, Ember goes into a trancelike state that allows her to avoid feeling pain. She makes a psychic connection with Tier, who is worried about being slowed down by the humans they are helping. Ember reminds him about his special power of controlling animals.
Tier realizes the salvation of his tribe, and the human refugees following them, is to use his animal-control powers to do crazy things like hypnotizing frogs into committing suicide (so they don't have to waste energy hunting for meat), eating said suicidal frogs raw (they can't reveal their position, you see, by lighting a fire), and convincing a bunch of deer to carry the human children on their backs so they can travel faster. Back at the Djunn settlement, the issue ends with Angrif finally losing his patience and deciding to go all out on Ember. He pulls a gun from his stash of weapons (keeping with the level of technology at this point in the history of the land of two moons, it's a flintlock pistol, like the Pirates of the Caribbean might use) and fires it at Ember. He doesn't shoot her, but the noise scares her out of her trance.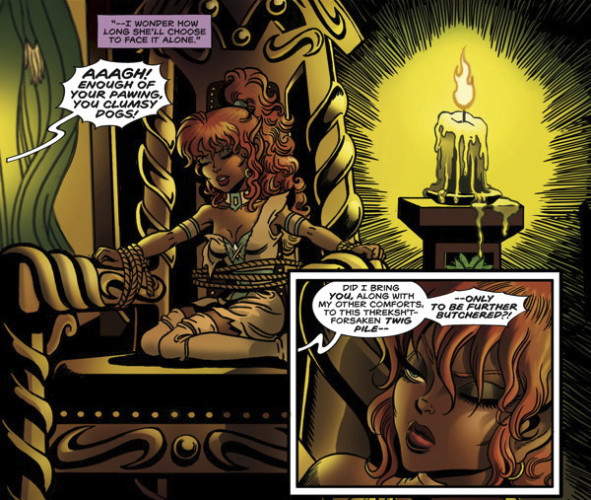 If you wanted me to bet on what happens next, my bet would be that a couple of Ember's fellow tribesmen are going to double back and try to rescue her instead of continuing on to the legendary sanctuary they are trying to get to. But that's just a guess. We'll have to wait until next issue to see. As with issue 1, issues 2 and 3 have some really cool extras. Issue 2 has a really cool behind the scenes type explanation about how WaRP creates the comics, from script through rough drawing to fully rendered panels. Issue 3 has some humorous comics and explanations of how they relate to WaRP's personal activities. The responses to letters from readers is another nugget.