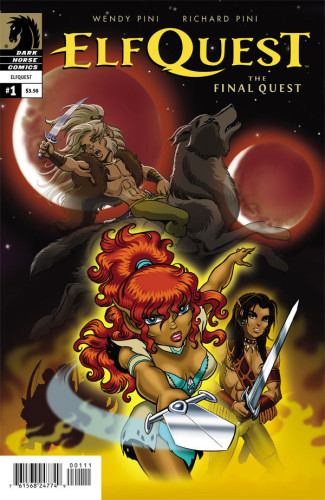 If you read my most recent post of "Lamar Recommends," you'll know I'm an ElfQuest fan. The creators, Wendi and Richard Pini, (AKA WaRP) are still at it after all these years. And when I heard they sent us a copy to review I was all over it like TMZ at a celebrity's local Walgreens parking lot. The cool thing is that they are teaming up with Dark Horse. Over the years WaRP has worked with DC comics and Marvel, but something tells me one of the original self-publishing efforts turned worldwide phenomenon is well suited to a more independently minded company like Dark Horse.
So — as I said — I'm all over it like Breaking Bad on a Netflix queue. But enough of my yapping, let's get to the recap.
Note: This recap may contain spoilers!
This issue starts with a little introductory effort by Richard Pini titled "ElfQuest 101." But instead of being a background primer to get you up to speed, it's really just Pini bragging about how great the franchise is. He lays it on a bit thick. For example: "We bet that once you give ElfQuest a try, you'll discover that its blend of grand adventure and quiet intimacy, triumph and sorrow, sensuality and innocence will speak to you as no other comic-book series has."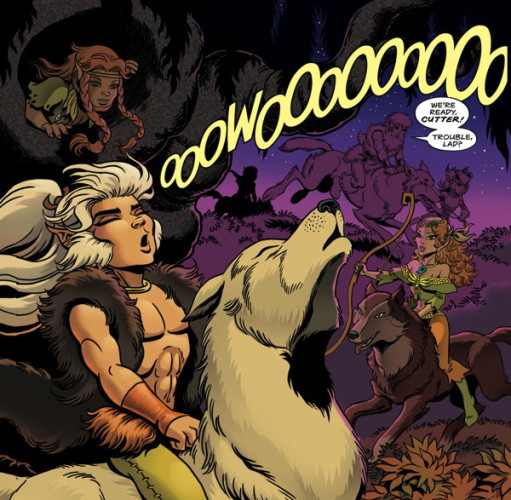 That's a bold claim, and for the uninitiated, it may sound too bold. It may sound downright egotistical. But for those already exposed to the world of two moons, it just sounds like foreplay. But let's skip a bit and get into the story: Cutter and the rest of his tribe are getting into the hunt. While they run around the forest doing their open-shirted moonlit primal thing, Moonshade hangs back at the temple and broods about her plans to become immortal.
By way of background, these elves are the descendants of magical beings who, over time, lost their magic. In order to survive, they blended the remaining magic they had with evolutionary forces, becoming less immortal and magical, and more tied to nature. For example, Cutter's tribe has wolf blood mixed in with their elf blood which is why they are always going hunting and howling at the moon and wearing open chested vests all the time. So Moonshade is thinking about undoing all that because she's got all this magic. Or something. I'm coming in halfway through this story line, so there's a lot I have to surmise.
Meanwhile, Ember (Cutter's daughter and leader of her own splinter group) comes across a great evil approaching their neck of the forest: humans. Humans, in the ElfQuest universe, are (mostly) the bad guys. Ember and her crew realize the humans are going to set fire to the forest to flush them out, so they preemptively attack. Of course, they get the help of an aging human who knew their ancestors. He's one of those wandering souls who realizes the folly of the humans' blind hatred of elves. Anyway, he helps out and it looks like victory is at hand.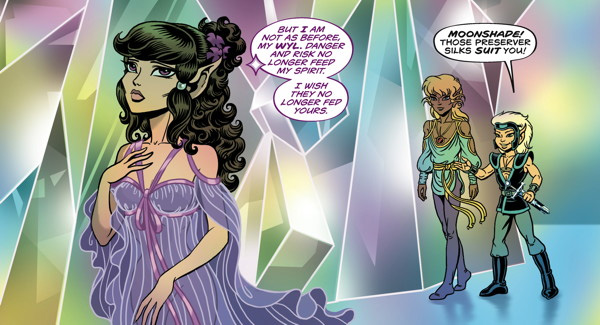 That is pretty much the story for this issue, but there are plenty of hints of plot twists to come. There is plenty to make long time fans happy. Newbies will need to consult Wikipedia a bit to get the in-universe stuff, but it's not so thick you can't just skip over it for now until you catch on.
There are also some additional tidbits for fans. They have a gallery of ElfQuest logos (that is, various covers under various publishers) and a little commentary explaining its evolution. This is espcially cool because Wendy's artwork is so amazing and distinctive. Then there's the cool little essay by Nate Piekos, who did letters for this issue, about how he creates and uses fonts to really push it over the top. If this is how Dark Horse plans to publish ElfQuest, we are all in for a good ride.
Rating: 4.5 / 5 Stars