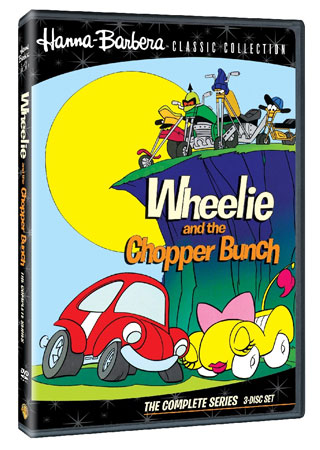 The '70s was a great decade for cartoons on TV, introducing kids of that era to many iconic characters that would go on to be superstars of pop culture. One Saturday morning show that might have flown under your radar, though, is Wheelie and the Chopper Bunch. Now Warner Bros has released the full series with a new DVD set that became available exclusively through WBShop last week.
Long before Lightning McQueen and his buddies got kids excited about anthropomorphic cars, there was Wheelie. Wheelie and the Chopper Bunch debuted in 1974, airing on NBC opposite The Bugs Bunny Show. Wheelie is a red Volkswagen Beetle who works as a racing and stunt car, and his girlfriend is Rota Ree, a yellow convertible with a pink bow-shaped windshield. Wheelie's nemesis is Chopper, an ill tempered motorcycle who leads a bumbling gang of villainous bikes. Also along for the ride are the local police, in the forms of Captain Tough (a police car) and his deputy Fishtail (a police motorcycle).
Each episode of the series is actually a collection of three animated six-minute shorts stuck together. With commercials added in, the original episodes had a runtime of thirty minutes each, obviously decreased without the ads on this DVD set. The show ran for just a single season, producing 39 segments to make up 13 full episodes. Each adventure sees Wheelie helping out other cars, Chopper launching a diabolical and ultimately misguided scheme, and the police stumbling their way through their pursuit of the Chopper Bunch.
All the cars and bikes can talk, with the interesting exception of Wheelie himself. Rather than talk, Wheelie communicates by beeping his horn and displaying icons on his windshield to convey emotion. When Wheelie does make sounds, he's voiced by veteran voice actor Frank Welker, who would go on to voice many of the original Decepticons in the '80s Transformers cartoon. Welker also does the voice work for Chopper, while Don Messick (the voices of Scooby Doo, Astro Jetson, and many other classic characters) voices both Fishtail and Chopper's crony Scrambles.
Wheelie and the Chopper Bunch isn't quite as famous as other Hanna-Barbera productions, but it features some early performances by voice actors who would become legends in their field. The complete series is collected in this new DVD set, which released through WBShop on January 25 for $24.95.