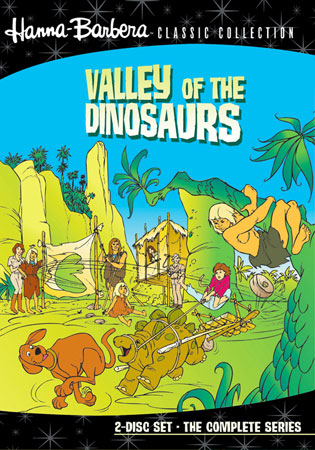 The 1970s was a fantastic era for Hanna-Barbera cartoons, and the Warner Archive has been reviving many of these classic shows with exclusive DVD releases. The newest is Valley of the Dinosaurs, released last week through WBShop.com.
Valley of the Dinosaurs debuted in 1974 as a half hour Saturday morning cartoon. It ran for sixteen episodes from September through December of that year, and it follows the time traveling adventures of the Butler family. The dad is John Butler, a science teacher who takes his family on an ill fated rafting trip down the Amazon River. Probably suited better to the classroom than to a death defying jaunt through the river rapids, John promptly crashes their boat into some rocks and hurls all of them into a magical whirlpool. The rushing water takes them through a cave and spits them out in prehistoric times, where cave people and dinosaurs live side by side, Flintstones-style.
John, his wife Kim, their kids Katie and Greg, and the family dog Digger soon meet up with their land before time counterparts, the similarly composed Gorok family. Gorok and his wife Gara have a son and daughter as well, Lok and Tana, not to mention their domesticated Stegosaurus, Glump. The two families become fast friends, working together to find a way to send the Butlers back to the '70s while fighting off tigers, volcanoes, and all the other hazards of the pre-Nixon era.
In addition to the usual quality of Hanna-Barbera productions of that era, Valley of the Dinosaurs features some great and surprising vocal talent. Mike Road, who previously had voiced Race Bannon on Jonny Quest, plays John Butler, and Shannon Farnon (Wonder Woman from Super Friends) lends her voice to his wife Kim. Prolific voice and character actor Alan Oppenheimer appears as caveman Gorok a few years before he would voice Skeletor and other characters in He-Man and the Masters of the Universe. Valley of the Dinosaurs also brings not one but two Scooby Doos into the mix, with original Scooby Don Messick narrating and later Scooby Frank Welker voicing family pets Digger and Glomp, as well as the prehistoric son, Lok. Perhaps the most geektastic member of the voice cast is a young Jackie Earle Haley (Watchmen, Human Target), playing the Butlers' son Greg.
All sixteen episodes are collected on this two-disc DVD set. As with the rest of the Hanna-Barbera Classic Collection, there are no bonus features beyond the episodes themselves. You can pick up Valley of the Dinosaurs as part of Warner's "make on demand" series, exclusively available at WBShop.com.