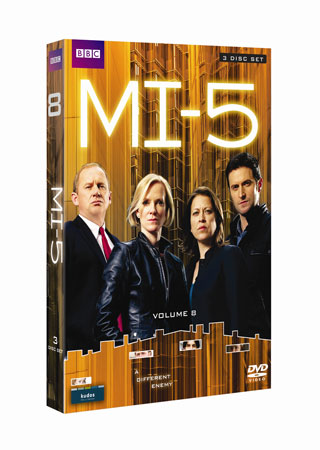 The eighth season of the British spy series MI-5 is now on DVD, and we have a look at what you can expect from the newest box set.
The United Kingdom's counterintelligence and security agencies are compartmentalized in Military Intelligence sections, or MI for short. The MI agencies have been featured in many movies, books, and TV shows, most popularly spotlighting James Bond as an agent of MI-6, the foreign intelligence division. MI-5 handles domestic counterintelligence and has been the focus of the TV show Spooks since it debuted in 2002 on the BBC. Spooks has aired overseas as MI-5, and its eighth season concluded airing in December 2009. The season's DVD release is in stores now, loaded with espionage action.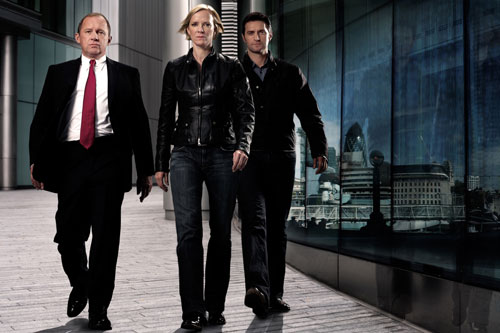 The overall series follows the intrigue and investigations that weave through the lives of a group of MI-5 agents working in Thames House, the London headquarters for the UK's Security Service. The first season aired six episodes, seasons two through six carried ten episodes in each, and all the subsequent seasons have run for eight episodes. Each episode brings the officers into a new case involving domestic intelligence, while plot threads tie the seasons together with longer arcs that tend to gradually build larger threats. It's a great show with a lot of action and espionage and is worth a watch for any fans of spy fiction who haven't checked it out yet.
The big bad for season 8 is a new and sinister organization called Nightingale. With their fingers in all sorts of international pies, Nightingale appears throughout the season to stir up trouble and to enact their plans that ultimately would lead to world domination if left unchecked. It's up to the stalwart crew at MI-5 to chase down the leads and put out the fires, even as they deal with their own perils and conflicts. Season 8 features all the twists and shocks fans have come to dread and love and leads to the always inevitable cliffhanger that will flow into the ninth season.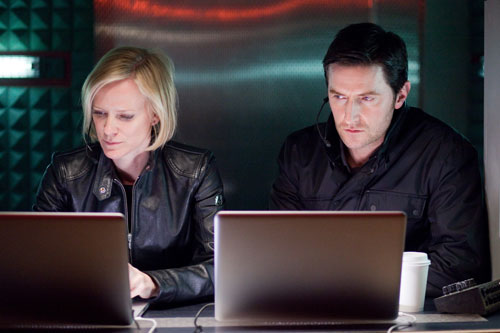 The volume eight box set collects all eight episodes from the season across three discs. There aren't many bonus features included here, but the ones that are on the discs include:
Two audio commentaries from director Alrick Riley and producer Chris Fry
Behind the Scenes Featurette: Acting the Fall
Behind the Scenes Featurette: The Flat Explosion
MI-5 Volume 8 hit stores on DVD on January 25, 2011, for a suggested price of $39.98.