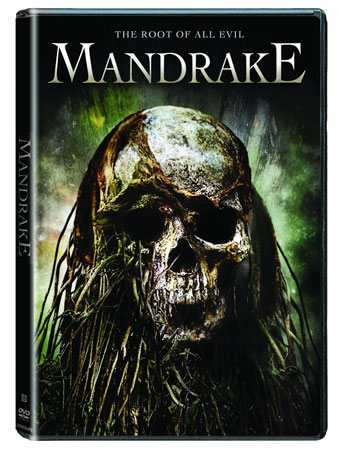 There's a conflict that comes with nearly any Syfy original movie. Almost without fail, these things are bad. I mean, really bad. But in that badness, there's usually something so endearingly terrible that it makes you kind of fall in love with the movie. Take the extreme food fight between Debbie Gibson and Tiffany in the awesomely titled Mega-Python Vs. Gatoroid, for instance. Or maybe you're partial to Paul Logan's crazy windmill fish-kick attack in Mega Piranha. Or maybe you just like that Felicia Day was cast as a werewolf hunter in Red. Whatever your leaning, there's usually something enjoyable to be found in the crazy monster movies they concoct.
Sadly, that lovable weirdness isn't as readily apparent in Mandrake as it is in many of their other modern classics. That's not to say that it's entirely without charm, though. The basic premise is full of enough kitsch to warrant at least a smirk. Max Martini (Lie to Me and The Unit) is Darren McCall, the leader of an expedition into the low budget backlot jungles of Mexico. Wealthy bastard Harry Vargas (The Shield's Benito Martinez) has commissioned the group to go on an old fashioned treasure hunt, and if a few conquistadors' tombs get desecrated in the process, so much the better. Also along for the ride is the Saw franchise's Betsy Russell, eschewing her usual trap engineering for running around through trees for a little over an hour.
Everything goes swimmingly until the group runs afoul of some very stereotypical and spear-chucking natives before they eventually do happen upon one of the aforementioned conquistador tombs. It's not long before they make with some grave robbing that would make seedier versions of Indiana Jones and Lara Croft proud. This doesn't go over well with the native population, most likely because it unleashes the Mandrake into the jungle. For the uninitiated, the Mandrake is what Treebeard might look like if HP Lovecraft had written Fellowship of the Ring (not a bad mash-up to ponder, actually). The remainder of the movie consists of the adventurers running around screaming while Treethulhu skewers them with roots and tribal natives further ruin their day.
It's all pretty basic stuff, and while Mandrake is watchable, it's far from the pinnacle of Syfy's enjoyable schlock. Fans of the actors might have fun seeing them in this bizarre movie, but the characters get no development beyond being human puppets for the CG beastie to knock off.
Mandrake releases on DVD on April 12, 2011.