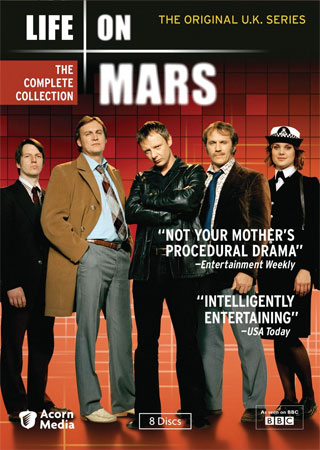 If you know Life on Mars only from its 2008 American adaptation on ABC, you haven't seen the real thing. Thanks to Acorn Media, the full and original British series is now available on DVD as Life on Mars: The Complete Collection.
Life on Mars stars John Simm (The Master in the David Tennant seasons of Doctor Who) as Sam Tyler, a Detective Chief Inspector with the Manchester police force. While pursuing a killer in 2006, Tyler is hit by a car and knocked unconscious. When he awakens, he finds himself somehow transported to 1973, where he is working as a Detective Inspector in the same police squad, now under DCI Gene Hunt (Philip Glenister), a hard drinking and corrupt cop who runs the investigations his way. The series follows Tyler's confused new life in the apparent past as he struggles to make sense of what has happened and get back to his own time, even as he must maintain his police role and investigate crimes in the past.
The nature of Sam's seeming time travel is the central mystery of the show and teases with hints and clues all the way through to the ultimately satisfying conclusion. If you've already seen the American version of Life on Mars and know its entirely baffling conclusion, you still can enjoy the original, as it builds in an entirely different direction and leads to a completely different ending.
Sam's life in 1973 is a central focus of the show as well, as the series faithfully depicts the era from its fashion to its music to even the police procedures of the '70s. Gone are the high tech and speedy trappings of modern policing that Sam is used to. In their place are slow and analog investigation methods that require him to take a new approach to the job he thought he knew. Sam's conflict with procedure and his struggles with the culture of the time lead to some great conflict between Sam and Hunt.
Life on Mars ran for two seasons with eight episodes in each, and the show proved so popular that it was followed by a sequel series, Ashes to Ashes, which ran for three more seasons. The entirety of Life on Mars is collected in this two-DVD box set, along with a whole bunch of bonus features:
Take a Look at the Lawman – documentary (64 mintues)
The Return of Life on Mars – documentary (45 minutes)
The End of Life on Mars – featurette (28 minutes)
Series 2 behind the scenes footage and set tour (48 minutes)
The Music of Life on Mars – featurette (14 minutes)
Get Sykes – production design featurette (8 minutes)
Outtakes Reel (6 minutes)
Audio commentaries for all Series 1 episodes
Interview with director Bharat Nalluri (3 minutes)
If you're a fan of smart police procedurals, period shows, well produced British drama, or even sci-fi of the Lost variety, Life on Mars is a series you should check out. Both the American and British versions are worth seeing, but this original one is at the top of the game.