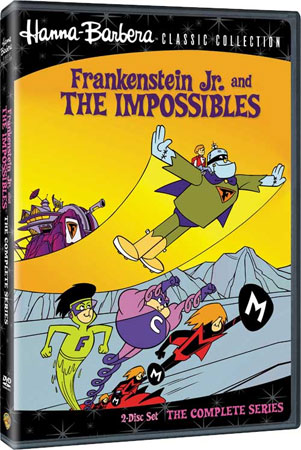 The '60s and '70s were decades filled with cartoon series that would last only one or two seasons but somehow would secure a warm place in the hearts of their fans for years to come. Such is the case with Frankenstein Jr. and The Impossibles, a half hour show that ran for two seasons between 1966 and 1968. The characters from this double feature show have appeared in comic books and on other shows like Space Ghost since the original series ended, but the show itself never has had an official DVD release before now. The Warner Archive finally presented the entire series last month as part of their ongoing Hanna-Barbera Classic Collection with a 2 DVD set that is exclusive to the WBShop.
The first half of the pairing is Frankenstein Jr., featuring a father and son team of scientists who use their brains to defend Civic City from evil menaces. Dick Beals voices the son, Buzz Conroy, and his father is Professor Conroy, played by John Stephenson (later made famous as the narrator of Dragnet). Together, the professor and Buzz create a giant robot called Frankenstein Jr., or Frankie for short. Ted Cassidy, known in the '60s as Lurch on The Addams Family and later in the '70s as the narrator of The Incredible Hulk live action series, voices the robot, who flies around the city mopping up crime.
The second part of the duo is The Impossibles, originally called The Incredibles during pre-production. The Impossibles are a trio of superheroes masquerading as a rock band, a common trope of cartoons in that era. The team consists of Multi Man, capable of duplicating himself into many copies, Coil Man, able to turn into a human-form Slinky, and Fluid Man, empowered with the ability to transform his body into liquid. The prolific Don Messick (also the voices of Scooby-Doo, Astro Jetson, Papa Smurf, and many others) voices Multi Man, while Paul Frees is Fluid Man and Hal Smith is Coil Man. Amusingly, Hal Smith previously gained fame as Otis Campbell, The Andy Griffith Show's town drunk.
In its two seasons, Frankenstein Jr. and The Impossibles ran for 18 episodes, pitting the heroes against everything from aliens to plant monsters to sea creatures. The new release from the Warner Archive is the first time all the original episodes have been collected together, and it's part of Warner's "manufacture on demand" program, through which the DVDs are produced as orders come in for them. As with the rest of the releases in this line, there aren't any bonus features or extras included beyond the episodes themselves. The DVD set released on April 26 and now is available through the Warner Archive website.