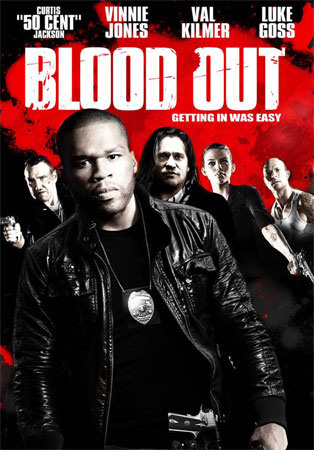 Blood Out, the new cop revenge thriller from Lionsgate, releases today on DVD and Blu-ray. It's the directorial debut for Jason Hewitt, who previously produced a number of recent releases, including Burning Palms and Cabin Fever 2. His first turn in the director's chair matches him up with 50 Cent, Val Kilmer, Vinnie Jones, and Luke Goss in a script Hewitt wrote with John A. O'Connell.
The old adage of not judging a book by its cover applies to DVDs as well, as evidenced by Blood Out. Straight out of the gate there's some weird deception going on with the DVD cover. Curtis "50 Cent" Jackson gets top billing and stands front and center, ahead of Val Kilmer and Vinnie Jones, who are in turn backed up by AnnaLynne McCord. Way in the back, barely peeking around the edge of the box cover is Luke Goss, presumably in a small role behind the rest of the stars. In reality, 50 Cent, Kilmer, and Jones get no more than a couple of scenes throughout the entire movie.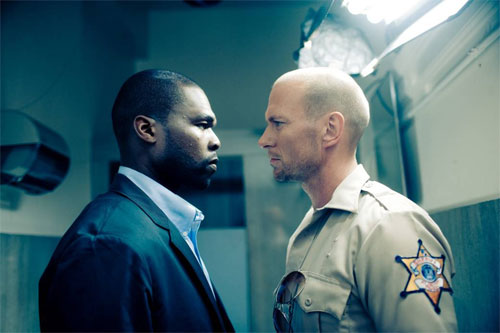 Luke Goss stars as Michael Savion (inexplicably called Michael Spencer on the back of the increasingly strange DVD box), a small town cop with a brother who is mixed up in drugs and gangs. When the brother, now trying to go straight and get married, is murdered by his own gang after being suspected of snitching to the police, Michael tries to follow up with the police. 50 Cent plays a particularly corrupt homicide detective who stonewalls Savion, dropping the case into the department's unsolved files without even attempting to follow any leads. Enraged, Michael makes a series of bad life decisions, not the least of which being joining his brother's former gang, all undercover and unofficial.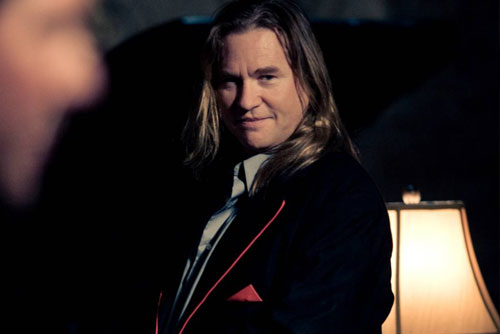 Savion's vigilante adventure puts him in touch with gang banger Anthony, played by Ed Quinn (TV's True Blood and Eureka). Anthony appears to be the only person in the gang who was at all sympathetic to the dead brother and is, probably not coincidentally, the only really believable character in the gang. Thus begins Michael's quest for vengeance as he infiltrates the gang and sets his sights on the people who offed his brother. The story does not cover any new ground and is pretty standard fare, but it does throw out a couple of surprises. Ultimately the ending feels lackluster and abrupt, a shame because the movie isn't all bad.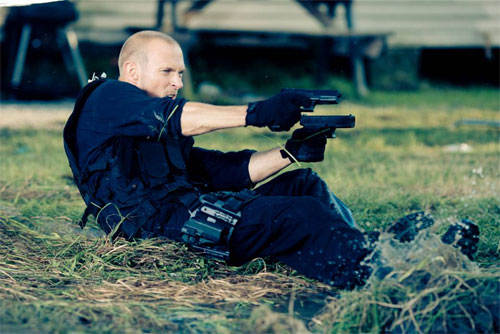 Nobody will claim that Blood Out is at the top of the crime movie genre, but it is a respectable B-movie with some good action and fun fight scenes. Some of the acting, notably by the top billed stars, is so wacky that certain scenes and lines are sure to become legendary. Val Kilmer in particular stumbles into his two scenes seeming lost and kind of crazy. Granted, he's playing an eccentric drug kingpin, but his pseudo-spiritual weirdo persona comes through as a lot more authentic than it should be. Luke Goss deserves top billing for gamely making it through the movie with much more aplomb than his likely higher paid costars.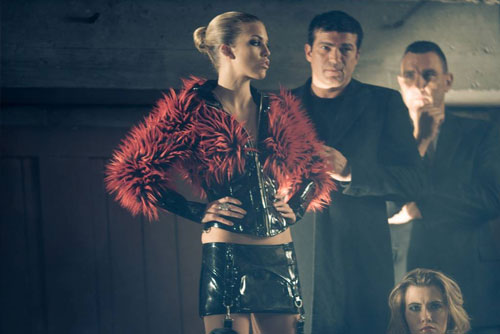 Despite its weaknesses, Blood Out is a fun popcorn movie. The fight scenes and the bizarre unlikeliness of the whole scenario make it a movie worth checking out. BlesteNation and La Coka Nostra deliver the soundtrack, which meshes well with the urban setting and elevates the film. You won't have any epiphanies or learn anything about life or yourself from watching Blood Out, but you just might have a few laughs and a little fun from watching a completely unhinged cop make terrible choices, all in the name of revenge. And you just might see a gladiatorial gang fight, complete with plumed helmets.