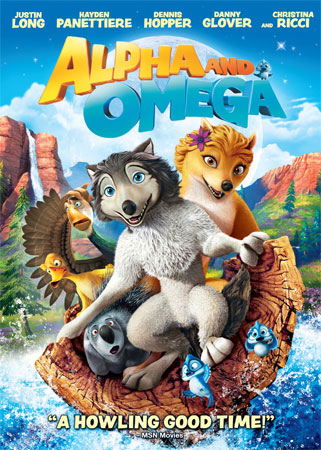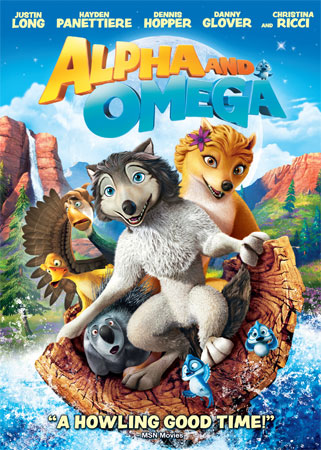 2010 was jam packed both with animated movies and 3D releases, and Alpha and Omega hit theaters in the midst of that rush. Sporting a great voice cast in this animal road trip adventure, the movie comes to DVD this week from Lionsgate.
The Movie
Hayden Panettiere (Heroes's indestructible cheerleader) plays Kate, an Canadian alpha wolf who has been arranged to marry Garth (Chris Carmack, The O.C.), the son of a rival pack leader (Dennis Hopper, in his final movie appearance). The marriage will unite the two rival wolf packs, but all plans derail when a park ranger tranquilizes Kate and ships her off to a park in Idaho. Accompanying her on the forced exodus is Humphrey, a lazy and carefree omega wolf voiced by Justin "I'm a Mac" Long. Displaced from their home, Kate and Humphrey must work together to get back to Canada before the aborted wedding results in all-out war between the tribes. As they make their journey north, they encounter a number of other talking animals, including a French-Canadian golfing goose played by Larry Miller (Seinfeld, Boston Legal). Danny Glover as Kate's father and Christina Ricci as Kate's sister round out a great assortment of celebrity voices.
The plot about displaced animals / kids / toys trying to make their way home is not a new one and inspired a huge portion of the past decade's animated movies. Still, despite Alpha and Omega's lack of story originality, it ends up being a fun movie that makes for great kid fare. Adults might not find quite as much to love here, but the little ones should get a lot of enjoyment out of it.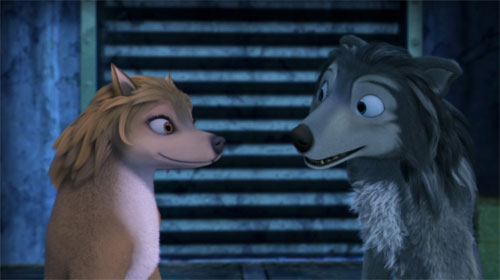 The DVD
The DVD releases on January 11 with four featurettes, an interactive game, a trivia challenge, and even a personality test. There's also one deleted scene on the disc. The full breakdown of special features follows:
Log Sliding interactive game
"Wolves in the Wild" featurette
"The Alpha of Animation" featurette
"Voicing the Wolves" featurette
"From Alpha to Omega" featurette
Personality Test: Are You an Alpha or an Omega?
Animal Fun Facts Trivia Challenge
Deleted Scene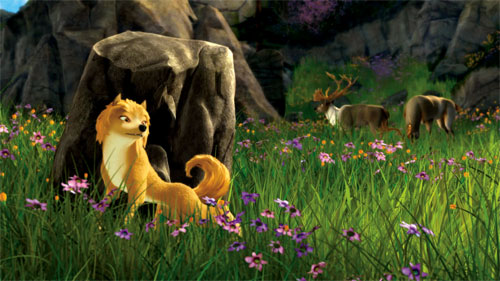 Conclusion
Alpha and Omega has a 78 minute runtime, which is just long enough to present a fun adventure but not so long as to lose the kids' interest. With a bunch of special games and features, it should be a good family pick.