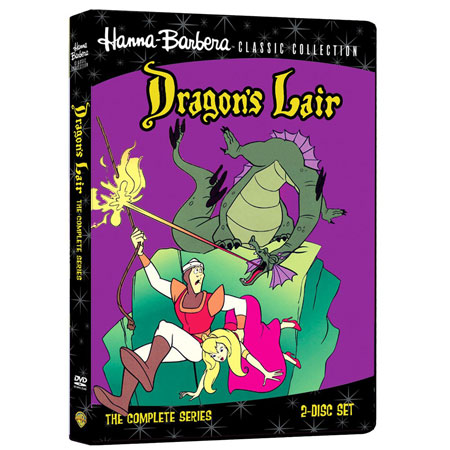 In 1983, when games like Spy Hunter, Dig Dug, and Q*Bert were all the rage in the arcades, Cinematronics created a sensation with the release of Dragon's Lair, a video game unlike anything gamers had played before. Rather than relying on the crude sprite-based graphics of the time, Dragon's Lair was a fully realized cartoon animated by former Disney animator Don Bluth. Using laserdisc technology, the game was able to store huge amounts of playable animation, truly separating it from the crowd. Although Dragon's Lair sacrificed some gameplay by taking much of the control away from the players, it still became a runaway success, due entirely to its gorgeous visuals.
With its heavy emphasis on animation, story, and humor, it only seems natural that Dragon's Lair would make the leap from the arcades to television with its very own animated series in 1984. The TV show ran for one season of 13 half-hour episodes and helped round out the universe that began with the game. The series once again places in center stage Dirk the Daring, the zany but heroic knight who always stands ready to defend his kingdom and its Princess Daphne, who also reappears for the TV show, this time dressed a bit more modestly for the cartoon crowd. Bob Sarlatte and Ellen Gerstell lend their voices to Dirk and Daphne, while Arthur Burghardt plays the titular dragon, now named Singe. A number of other characters make their debut in the cartoon as well, including Dirk's talking horse Bertram, voiced by the prolific Peter Cullen (Optimus Prime in the Transformers cartoons and movies).
The Dragon's Lair video game plays largely as a "choose your own adventure" experience by having the player select from a limited number of choices how Dirk will proceed on his quest to rescue Daphne. The cartoon mimics that gameplay element by leaving the show with a cliffhanger at each commercial break, during which the audience is asked to choose a path for Dirk. Once back from the break, the show branches similarly to the movie Clue and shows how the different choices would play out before finally showing the "correct" way for Dirk to advance.
Keeping some of the key elements from the game and expanding upon the story and lore by fleshing out characters and building new elements into the fantasy world, Dragon's Lair maintains the fun sword and sorcery feel of the source material. Although it only ran for one season on ABC, the Dragon's Lair cartoon earned a place in the hearts of many young fans of the revolutionary video game. This single season is now available on DVD as Dragon's Lair: The Complete Series, thanks to Warner Brothers' make-on-demand program. Part of their growing Hanna-Barbera Classic Collection, the two DVD set features all 13 episodes from the series, including:
The Tale of the Enchanted Gift
Sir Timothy's Quest
The Tournament of the Phantom Knight
The Smithee's Haunted Armor
The Pool of Youth
The Story of Old Alf
The Song of the Chimes
The Girl from Crow's Wood
Mirror, Mirror
The Snow Witch
The Tale of Dirk's New Sword
The Legend of the Giant's Name
The Mist of Wishes